No fruit juice for kids under 1, doctors say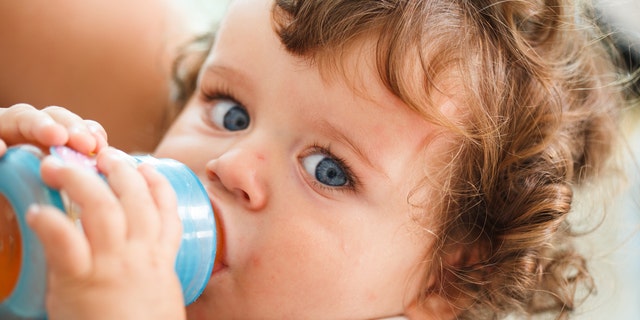 Parents may be unknowingly giving their young children too much fruit juice, as an influential group of doctors now say kids under 1 should not be given any at all. The American Academy of Pediatrics (AAP) announced on Monday new guidelines to address one of the most commonly asked questions among parents.
"An AAP policy statement published in 2001 and reaffirmed in 2006 recommended no juice for children younger than 6 months of age, 4-6 ounces daily for children ages 1-6 years and 8-12 ounces for children 7 and older," the AAP said in a statement on its website. "Since then, however, considerable concern has been expressed about increasing obesity rates and risks for dental caries."
QUINOA 'MILK' DIET KILLED BABY, AUTHORITIES SAY
The new policy, which was detailed in Fruit Juice in Infants, Children and Adolescents: Current Recommendations, indicates that 100 percent fruit juice should not be provided to children younger than 1 unless there is a medical reason for it "in the management of constipation."
For children ages 1-3, the AAP recommends a maximum daily intake of 4 ounces. Children ages 3-6 should receive no more than 4-6 ounces of fruit juice daily, while those 7 and older should receive a maximum of 8 ounces.
"Families of small children with dental caries should have a discussion with their pediatrician about the child's fruit juice intake and its possible contribution to the caries," the AAP wrote.
STUDENT DIES AFTER PLAYING DANGEROUS 'CHOKING' GAME
The group said that while a correlation between fruit juice and childhood obesity remains uncertain, it recommends eliminating 100 percent fruit juice from the diets of children with excessive weight gain, but not from the diets of all children.
"The policy clarifies that there is virtually no role for juice during the first year of life and that expensive juice products designed specifically for infants are not of value," the AAP wrote.