NHL's new concussion spotters have had spotty results so far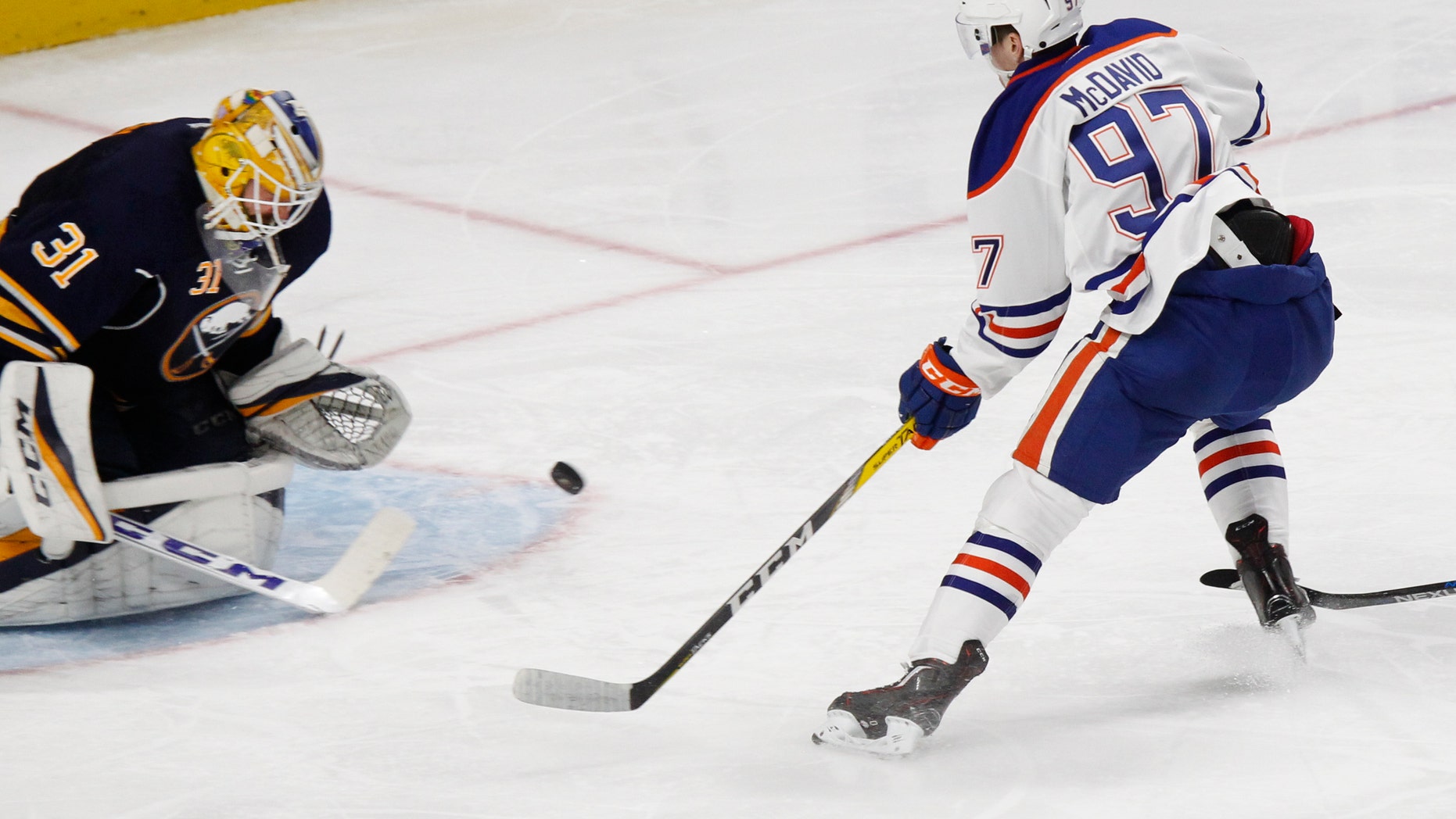 Connor McDavid hit the ice, chin first, and a concussion spotter at least played a part in pulling him from the game.
The Edmonton Oilers captain and budding star was not stunned by the jarring trip to the ice, but that someone watching him play recently against Minnesota determined he should be evaluated for a concussion.
A few days later, McDavid still wasn't happy he missed the last several minutes of the second period against the Wild before being cleared to play in the third in a game the Oilers lost in overtime.
"It happened at an important time of the game and it could happen at even worse times," McDavid said Tuesday. "You know, what if it's overtime or it's a playoff push or it's late in the third period and stuff like that? I think they definitely have to take that into consideration."
Welcome to the NHL's latest attempt to keep players healthy — at least above the shoulders — as they get bigger and faster and the stakes get higher on the ice and in court.
"I think it's a good thing," Washington Capitals defenseman Brooks Orpik said. "Unfortunately, I think litigation is what finally brought it to this."
The NHL is facing a class-action lawsuit over head injuries suffered by former players alleging the league had resources to do a better job preventing head trauma.
This season, the league has touted "enhanced" changes to its concussion protocol, including adding a staff of nationally certified athletic trainers with hockey experience to monitors games on TV from NHL headquarters in New York with the power to remove players from games.
Two months in, the NHL has declined to say how many players have been pulled off the ice by the anonymous spotters, nor is it detailing their diagnosis rate.
The truth is, it may be tricky to track who makes the call when a player is called off the ice. Is it a spotter at league headquarters? An in-arena spotter? The medical staff behind the benches?
And even with all those layers of observation, some concussions slip through the cracks and simply aren't diagnosed during a game.
Pittsburgh Penguins forward Patric Hornqvist provides a recent example.
Hornqvist wasn't spotted by anyone remotely or up close in Washington on Nov. 16 for a possible concussion, but recalled telling the team's trainer he felt "a little off," after the game and went through testing to determine if he had a concussion. He did get diagnosed with a concussion and was out for two weeks, but he doesn't blame anyone for missing signs during the game.
"You probably get hit every single shift, so they can't take you out after every single shift," Hornqvist said.
Detroit Red Wings forward Johan Franzen, meanwhile, said he doubts he'll play another shift of hockey. Franzen has not played since Oct. 10, 2015, because multiple concussions — perhaps 10 of them, he said — have affected his vision, given him headaches and made him so tired he has slept for two or three straight days.
"I think having spotters is a step in the right direction, but there's almost too much pressure on them and it's only going to get worse in the playoffs," said Franzen, who had 18 postseason points in 2008 when he helped the Red Wings win their last Stanley Cup. "When one of the best players gets taken out of the game, he, the coach and the GM may not like it. I do think it's better for the players, but I don't have all the answers."