Paralyzed Marine turns to growing sport of sled hockey for rehabilitation, community

When Josh Sweeney stepped on an improvised explosive device (IED) in Afghanistan in October 2009, the Marine Corps Sergeant lost both legs above the knee. Now, the Purple Heart recipient is an accomplished athlete- scoring the U.S. National Sled Hockey Team's game-winning goal to earn its third gold medal at the Sochi 2014 Paralympic Winter Games and receiving the inaugural Pat Tillman Award for Service at the 2014 ESPYS. Sweeney's transition from Marine to injured veteran to team captain is just one example of the positive impact the growth of sled hockey has had on veterans and paralyzed athletes in the past decade.
"It's been a huge release playing with other disabled players, having people I can relate to, people I can look to for inspiration who are maybe having a harder time than myself but still pushing through all that just to be able to live," Sweeney, 28, told FoxNews.com.
Sweeney first played roller hockey in junior high school, then moved to ice hockey in high school and continued to play pick-up games when he was home in Phoenix on leave during his service years, which began in 2005. When he was at the Center for the Intrepid rehabilitation facility in San Antonio, Texas, after his injury, he learned about sled hockey and watched his first game.
"They were flying around way quicker than I thought they could, shooting the puck, passing, communicating," Sweeney, who now lives in Portland, Ore., said. "That's when I realized that sled hockey is still hockey and would be the exact same sport and I wanted to be able to do something that I did before, after being injured."
Sweeney joined the national team in 2011. The current roster includes two other Purple Heart recipients and is made up of players who were born disabled and those who were injured later in life.
Nationally, in the 2014-15 season, there were 58 sled hockey programs, which included over 1,200 players and over 300 coaches and volunteers. The players range in age, with some as young as 13 years old.
"[Growth] hasn't moved as fast as we'd like it to, but certainly it's in much better shape than it was a long time ago," Dave Ogrean, executive director for USA Hockey, told FoxNews.com. "The key thing, however, which is true of a lot of programs that may be volunteer-based, they need the force of will of a person or group of people to get them off the ground."
One such group is Labatt USA, who in April announced a partnership with USA Hockey, "Pass It Forward" that has created new adult sled hockey programs through $250,000 in grants. Five of the teams are new, while five were previously established by USA Hockey. The $25,000 each team has received is being used for equipment, ice time and uniforms.
"It's a huge donation and nothing else has ever been done like that for the sport," Keith Blase, chairperson of the Ice Sledge Hockey Sport Technical Committee, the international governing board of the sport, told FoxNews.com. "I hope this opens up the door to show that [corporate] support for these athletes and these types of programs will provide tremendous benefits." The term "sledge" is used internationally in reference to the original development of the sport in Sweden in the 1960s, where a "sledge" was used for rehabilitation for individuals with physical impairments.
Labatt worked with USA Hockey to identify regions with high interest in the sport, to understand the financial and awareness needs, and to determine the number of teams that would not only make an impact on the grassroots level, but would also be manageable for USA Hockey to help oversee. The company plans to continue with a year two initiative in late 2016.
"We really wanted to make sure to do something that's sustainable," Lisa Texido, brand manager for Labatt, told FoxNews.com, adding that the company leveraged their 12-year partnership with USA Hockey  and relationships with ESPN anchor and hockey enthusiast John Bucciogross and the NHL to create awareness.
"It's pretty amazing, the level of athleticism"
Sled hockey follows the same rules and play as ice hockey, but athletes propel themselves around the ice in a sled with two sticks that have picks on the end. The sticks are used not only for movement, but also for handling, passing and shooting. Players must learn how to use the edges on the skate blades for balance and speed.
"Like ice hockey, there are so many things happening at one time— you have to use sticks to skate and propel around ice, have that balance on the blades underneath you, at the same time you might have to keep one arm moving to propel yourself while handling the puck with the other stick," Blase, 64, who's based in Colorado Springs, Colo., said. "It's pretty amazing, the level of athleticism that these players have and the things they're able to do."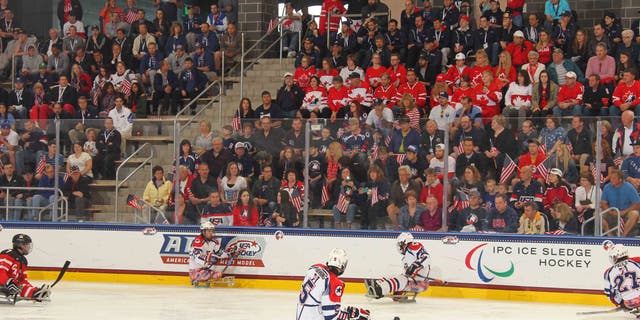 What makes sled hockey unusual in the disabled sport world is that it is a contact sport, where the physicality is built into the skill and tactics of the game. There are the same safety concerns as there are on the able-bodied side, such as concussions,  but that doesn't stop players for giving their all.
"Athletes that participate in our sport are just as tough and committed to the physicality of it as they are on the able-bodied side," Blase said. "There's certainly a lot of mutual respect because many of these athletes look at each other and share the common bond of having that impairment, but it won't stop somebody going in the corner with somebody and being physical."
The barriers to the sport have been in awareness and equipment requirements.
At the beginner level, putting a player in a sled costs about $600 for the sled and $75 for a set of sticks with picks. At the highest level, sleds are custom-made for each player and cost about $3,000; sticks are about $200 a pair. On top of that, players need the usual equipment for ice hockey such as clothing and helmets. Then there's ice time, which is costly and coveted by other teams and groups.
To help skip that equipment cost for interested individuals, USA Hockey has a sled lending program that ships sleds around the country for introductory clinics, as well as sled grants to fund grassroots programs. According to J.J. O'Connor, chair of the disabled section for USA Hockey, an individual who's interested in the sport can use the USA Hockey site to find a team near them, or email to find the nearest program.
"If you just focus on players who already made it to the top level and don't worry about base of players, you don't have a future," said O'Connor, 37, who himself was an ice hockey player from childhood, until an accident during a game made him a quadriplegic at 16. After graduating college, he was recruited in 2002 for the volunteer chair role.
"The sport will be huge"
The U.S. team's three gold medals at the Paralympics— 2002, 2010, 2014— have been key to the sport's awareness and growth.
In 1998, the team wasn't under any official governance, and players put their own team together and found a coach. Japan was the host country that year and gave the team $25,000 to participate, partly because they wanted the American team to compete and partly because they worried there weren't enough teams to generate success, according to O'Connor.
"Those guys between 1995 and 2002 are really the ones who saw the sport prevail, really the springboard of the whole thing," O'Connor, who lives in Mt. Prospect, Ill., said.
In 2002, the team's ranking was so low that they were only allowed to play because they were the host country team, and their first gold medal victory was a surprise— and great exposure for a team that was not yet under the USA Hockey governance. In 2007, USA Hockey took over the team.
Both Sweeney and Ogrean noted that NBC Sports' coverage of the Sochi 2014 games generated even more exposure. NBC had planned to air the game on a tape delay on a cable channel, but the interest had grown so much that it was aired live on the network, which even cut into PGA golf coverage to show the medal ceremony.
"I say, half-jokingly, that I think more people in America saw sled hockey in those 2.5 hours than in the entire history of the world prior to that morning," Ogrean, 62, who lives in Colorado Springs, Colo., said.
The national team's success has been intentional, as the country has purposefully focused on player development, Blase said. In 2010, USA Hockey took over the player development program, a system similar to that of USA Hockey.
With the growth at a grassroots level, play and athletes have become more competitive.
"The sport is turning to more and more younger athletes that are more physically fit, the game has increased in terms of speed and physicality and, along the way of course, we worked very hard to try to, in addition to raising that competitive level of all countries, to get new countries interested in and involved in playing sports," Blase said.
"When I first started, if you weren't training, not eating the best and worked out only occasionally, if you knew the sport and had good hockey sense, you'd be okay," Sweeney said. "Now, if you're not working out all the time, eating correctly and if you don't have that hockey sense, you're struggling."
Sweeney predicts that future players will come from athletes playing wheelchair basketball and track and field, as more opportunities to join the sport arise.
"[They're] really starting to come out of the woodwork," he said. "The sport of sled hockey will be huge by the next Paralympics."
"Sports are a very powerful thing"
In New York City, interested potential players are able to try out the sport with free Parks & Recreation Department-provided sleds.
Seventeen years ago, the city's sled hockey programs stared with four to five children. Now, they have close to 50 participants ranging from age 5 to 20 and work in partnership with the New York Rangers NHL team.
"The opportunities for people with disabilities is growing more and more," Victor Calise, commissioner of the Mayor's Office for People with Disabilities, told FoxNews.com. "It used to be done through work of non-profits and now the Parks Department is stepping up its game and adding adaptive sports programs."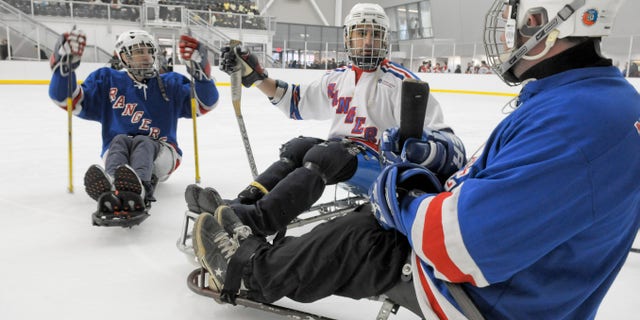 In 1994, Calise, now 43, sustained a spinal cord injury that left him unable to use his legs. He'd grown up playing street hockey and went on to join the national sled hockey team, playing in the '98 Paralympic team.
For younger players, especially school-age children, introduction to the sport  is especially beneficial, as it allows them to feel like peers to their able-bodied friends.
"You have kids in homeroom talking about the touchdown they made, the goal they scored. Now kids involved in sled hockey are able to say that they had a game this weekend, that they scored a goal and are tired from skating all weekend," Calise, the head coach of the Parks teams, said. "It gives them the confidence they need to excel not only on the ice but into school, as well. Sports are a very powerful thing."
"I think it provides me with closure"
For veterans returning home with disabilities, the learning curve of both adjusting to their new bodies and to the skills needed to use a sled and play the sport is a tremendous opportunity to not only be part of a unit again, but to use the physical activity for recovery.
"I think it also provides me with just a little bit of closure," Sweeney, who's leading the Labatt-grant-funded creation of the Winterhawks Sled Hockey Program in Portland, said. "I'm still the same person I was before, I've just been injured and now have to be able to figure out new ways to do things."
When Sweeney first started playing, the nerve damage in his arms and hands was so extensive he couldn't do a pull-up, and going out on the ice, gripping the sticks to propel himself with his arms, was an eye opener.
"The whole time I was doing that, not even really realizing how much I was using all those muscles I haven't been able to use, I would get done with practice and be sore," he said. "For the first year, my elbow, shoulder and hand would just ache."
The sport provides a productive alternative to drinking and drugs that some veterans use to manage after injury, Sweeney said, and many are successful in sports because it provides an outlet.
"I can't go out and drink all the time and do drugs because I'm trying to be a top player in the world for sled hockey," he said. "I think that's kind of kept me out of things that I may have otherwise been drawn to and it's really put me in the best shape I've been in, ever."
As development of the sport continues on the grassroots and national levels, the community sees positive growth and more awareness in the future.
"The team is now the strongest," Sweeney said. "[We] will continue to be, every year, the strongest team that has played together."