New York City mice carry life-threatening superbugs, viruses, study finds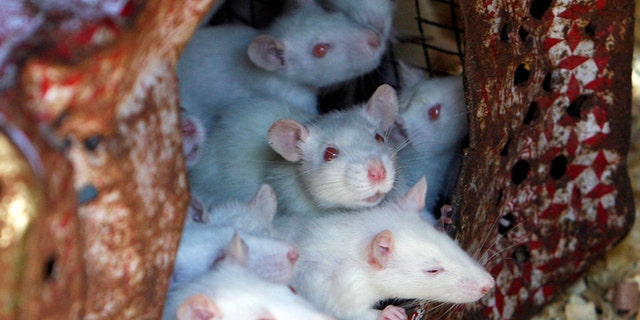 Rats may be the biggest rodents to plague New York City, but they may not be the germiest. Researchers recently made a disturbing discovery after studying mice in apartment buildings across the city in the past year: they're covered in disease-causing bacteria.
Tests conducted by a team from Columbia University on 416 mice collected in seven New York City-area locations in just over a year revealed house mice are "carriers of several gastrointestinal disease-causing agents," including C. diff, E. coli and Salmonella, among others, according to a study published in the American Society for Microbiology on Tuesday.
"We found a whole series of bacteria that are associated with human disease," Dr. W. Ian Lipkin, a senior author of the study, told the New York Daily News. "And many of these bacteria had evidence of antibiotic resistance chain."
Therefore, humans exposed to infected mice – through direct contact, droppings or urine – would have a hard time killing the germs, which means any potential illnesses contracted from the rodents could turn deadly.
"We found a whole series of bacteria that are associated with human disease."
At least 2 million people are impacted by these superbugs every year and 23,000 of those are killed as a result, the Centers for Disease Control and Prevention (CDC) says. C. diff, which causes "life-threatening diarrhea," is listed as one of the biggest drug-resistant threats in the U.S., according to a 2013 CDC study.
A second paper published by the team of researchers focused solely on fecal matter from mice collected in Manhattan, Queens, Brooklyn and the Bronx. The study revealed 36 separate viruses – 12 specifically targeting the liver – were present in mouse poop, though none are known to harm humans.
"Higher mouse weight was associated with an increase in the number of viruses detected per mouse, after adjusting for site, sex, and length," the study states. "We found neither genetic footprints to known human viral pathogens nor antibodies to lymphocytic choriomeningitis virus."
In order to prevent exposure, Lipkin recommends being extra careful when preparing or eating food. Countertops and places where food is stored should be thoroughly cleaned.
"If you've got mice in your kitchen, and they're soiling your food, that's a way in which you can become infected," Lipkin told the New York newspaper. "When you walk by restaurants that list a B or a C [grade] you probably want to give it a pass."