Nathan's, Curtis brands included in massive hot dog recall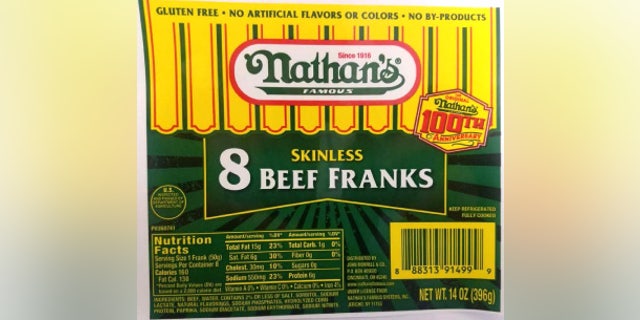 The Ohio-based maker of Nathan's and Curtis hot dogs has issued a recall for more than 210,000 pounds of ready-to-eat beef franks after receiving complaints about metal materials in the product. The affected products were produced on January 26, 2017.
John Morrell and Co. contacted the USDA Food Safety and Inspection Service on May 19 after receiving three complaints about metal objects in beef frank product packages. While there have been no illnesses or injuries reported in connection to the recall, the USDA urged customers not to consume the following products:
NO FRUIT JUICE FOR KIDS UNDER 1, DOCTORS SAY
-14 oz. sealed film packages containing "Nathan's SKINLESS 8 BEEF FRANKS" with a use by date of Aug. 19, 2017.
-16 oz. sealed film packages containing "Curtis BEEF MASTER Beef Franks" with a use by date of June 15, 2017.
The items were shipped to various retailers nationwide and have an "EST. 296" establishment number on the package.
BANANA BOAT SUNSCREEN CAUSED TODDLER'S SECOND-DEGREE BURNS, MOM CLAIMS
The company instructs consumers to either discard of the product or return it for a refund. Those who believe they may be suffering adverse reactions from consuming the products are instructed to seek health care.