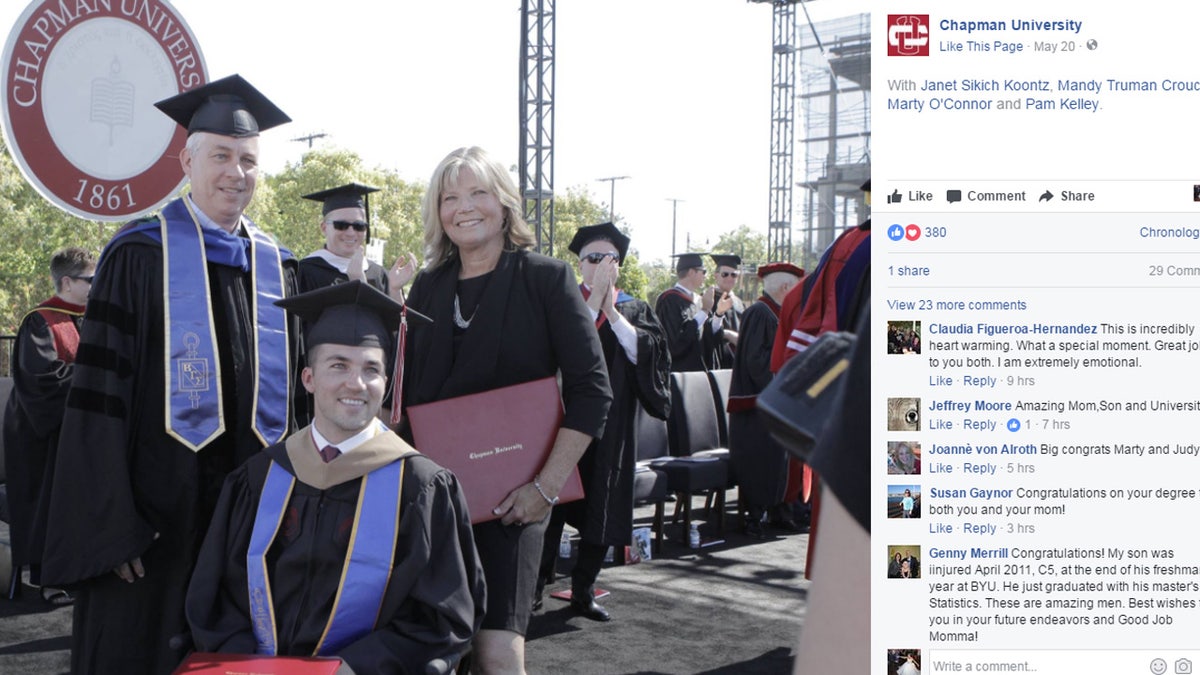 The mother of a quadriplegic graduate student who accompanied her son to every class and took notes was recognized with a surprise honorary degree at his graduation ceremony on Saturday. Marty O'Connor, 29, was paralyzed in a tragic fall in 2010, KTLA reported.
While he was attending physical therapy five times per week, he set a goal of completing graduate school and was awarded a $10,000 annual scholarship through the Swim With Mike organization. Once he enrolled in Chapman University, his teacher mother, Judy, moved from Florida to Southern California to help him get through his classes.
DAD DIES AFTER EATING GAS STATION NACHO CHEESE; 9 OTHERS HOSPITALIZED
"I didn't know how going back to school without being able to write, or use my hands, or raise my hand in class, any of that, would go," O'Connor told the Chapman University blog. "But I think it really kind of challenged me to do some introspection and see what strengths I do have to utilize, and how I can use my situation to work on some new strengths. This has really forced upon me some patients and thoughtfulness in everything I'm doing."
For Judy, a business graduate of University of Notre Dame, returning to school was a welcome challenge.
"I'm a geek," she told the blog. "I love being in school. I'm not going to lie. I've enjoyed every minute of it."
TEEN SAVES MOM'S LIFE AFTER SCIENCE LESSON ON STROKE
On Saturday, as the graduating class gathered for their ceremony, Judy prepared to push her son's wheelchair across the stage. After the announcer called O'Connor's name, he called out a "special individual," and said that the faculty, administration and board of trustees had decided to award Judy with an honorary degree, KTLA reported.
"Mrs. Judith O'Connor has attended all the classes with her son Marty," the announcer said. "She has taken notes and worked with Marty throughout his academic career."
The two posed for photos with their degree and shared the special moment.
"As a mom, you just want to help your kids get through things," Judy told KTLA. "I always believed in him. I knew he could do it and I just wanted to have his back."