Middle school principal shaves head in solidarity with student supporting sick grandfather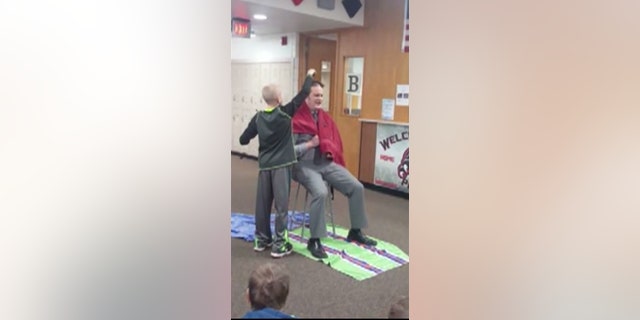 NEWYou can now listen to Fox News articles!
After a sixth grader was being bullied for shaving his head in support of his grandfather, who has cancer, the school's principal stepped in and volunteered to lose his locks too.
"It really struck me," Tim Hadley, principal of Pekin Middle School in Packwood, Iowa, told WTXF. "He's just a kid. He's already going through something with his grandpa."
Jackson Johnston, 11, used to have shaggy blonde hair with side-sweeping bangs, The Des Moines Register reported. When he buzzed his hair in support of his grandfather, Rick Wilkerson, students taunted him with comments including, "Hey baldy!" and "You look like a cancer patient."
Wilkerson, who goes by Papa Rick in the family, has incurable mantle cell lymphoma, a rare form of non-Hodgkin lymphoma. The average age of diagnosis is the mid-60s and it's more often diagnosed in men than women, according to the Leukemia & Lymphoma Society.
Jackson's mother, Amber Johnston, called Hadley to voice her concerns. The next day, Hadley called an impromptu assembly and asked Jackson to do the honors of shaving his head.
"I expect more from our students. I expect support and for us to be there for one another," Hadley told WTXF. "'Cause you know, we need each other at the end of the day."