Michigan family dealt another blow as second son diagnosed with cancer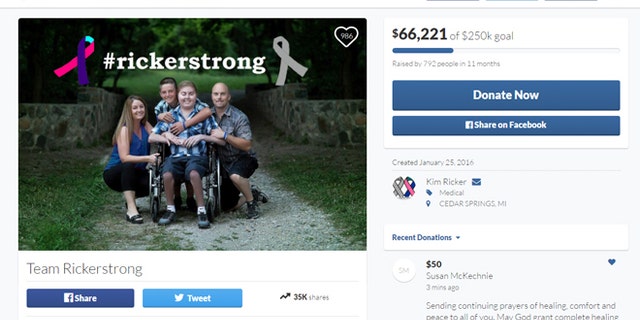 NEWYou can now listen to Fox News articles!
For the past year, Brian and Kim Ricker have focused their energy on finding a cure for son Brison's inoperable brain tumor. But in December, they learned they would have to alter their plans to include a second fight for their other son Preston, who was recently diagnosed with thyroid cancer.
"Everybody always says, 'You're so strong; how do you do it?'" Kim Ricker told WCNC. "We don't have a choice; we just do it. There's not an option to not do it."
Preston's diagnosis came at a time when the Rickers felt they could breathe for a moment, as a Dec. 22 MRI showed 15-year-old Brison's brain tumor was shrinking, thanks in part to chemotherapy treatments near their Grand Rapids, Michigan, home and visits to a clinic in Texas, which was costing the family $17,000 each month, WCNC reported.
Preston underwent surgery to remove his thyroid and lymph nodes at Helen Devos Children's Hospital, and doctors said his cancer has a 95 percent cure rate.
"The moment I was given the diagnosis, I knew I would be this because I have watched my brother's battle for the past year," Preston told WCNC. "I'm not afraid." The news station did not report Preston's age.
For Brison, the prognosis is not as positive. He was diagnosed with Diffuse Intrinsic Pontine Glioma (DIPG), an aggressive form of brain cancer, in January 2016. Doctors informed the family there is a 0 percent chance of survival, and a subsequent diagnosis of pancreatitis forced him to take a break from the alternative treatments he was receiving in Texas, WCNC reported.
"It was scary for all of us because we were afraid that the great results he was getting might be compromised by this new illness, and his inability to stay on the treatment plan," Kim told WCNC.
She told the news outlet that Brison has been relying on a feeding tube for the last several months and is back on half of his treatment regimen.
"Despite being off the treatment, Brison's tumor is showing continued resolution, and we're taking that as a positive sign," she told WCNC.
A GoFundMe page has been set up to help the family cover medical costs for the boys and provide updates on their health.