Hungry Girl's guide to outsmarting Valentine's Day overeating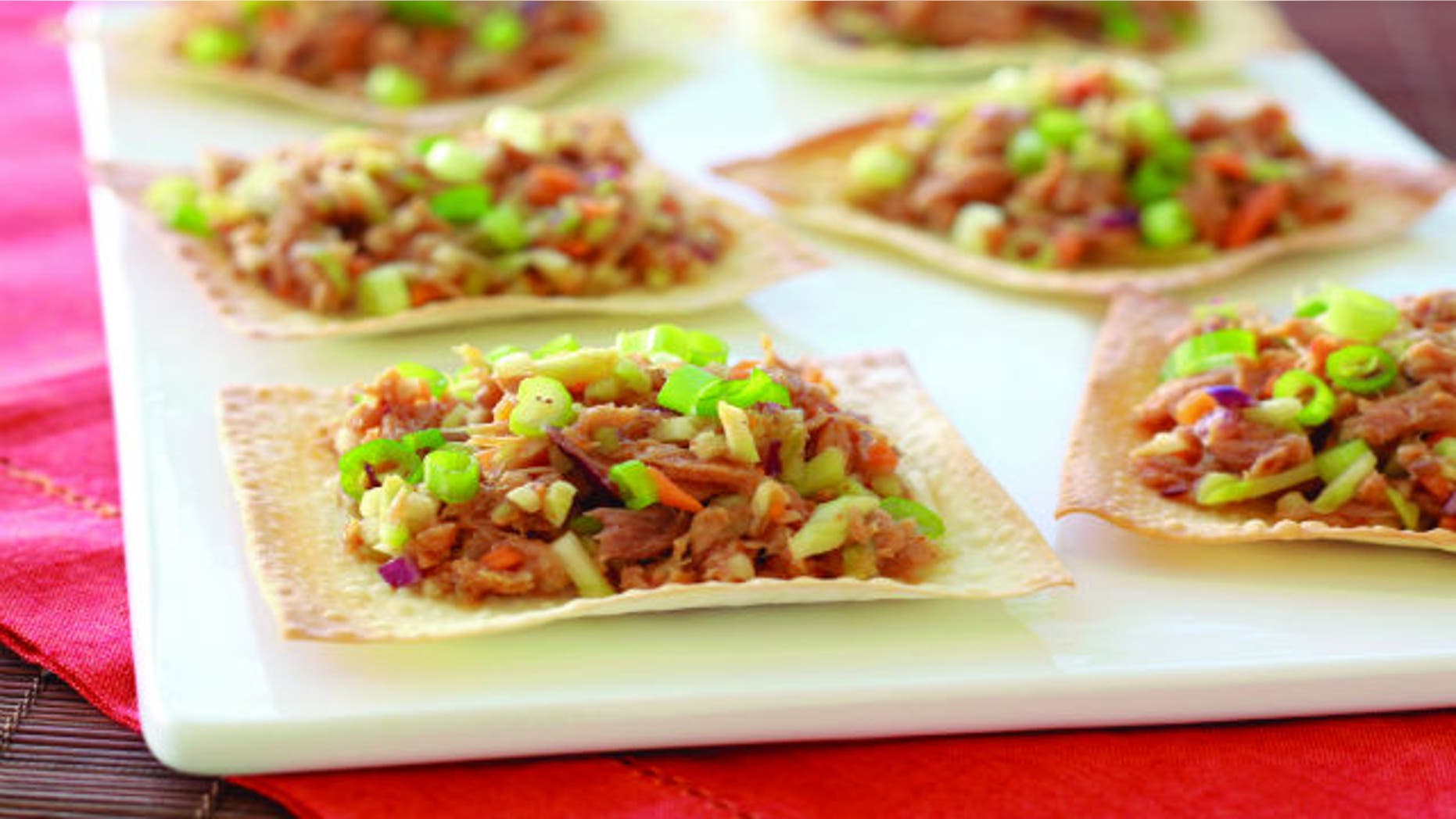 When it comes to eating on Valentine's Day, we tend to overindulge on sweet treats and lavish meals. To some, the day is just as synonymous with treats as Halloween. But don't worry: There are easy ways to outsmart overeating on V Day. Instead of battling the crowds, stay in and cook up a delicious, romantic (yet guilt-free!) dinner for two. What better way to control what goes into your dish?

Here are my favorite recipes that won't ruin your budget, waistline, or the mood!

1. Appetizer: Tuna Topped Wonton Crisps
2. Entrée: Veggie-Loaded Spaghetti Amore
3. Dessert: Chocolate Chip-Stuffed Strawberries


Appetizer: Hungry Girl's Tuna-Topped Wonton Crisps

Whether you've been with your significant other for a few months or years, making a great first impression on Valentine's Day will help set the mood and keep it alive. Ginger has been found to spice up the night, so try my Tuna-Topped Wonton Crisps with low-fat sesame ginger dressing. They'll have you falling in love all over again, with your food AND your sweetheart. So good, you'll want to enjoy 'em twice; save the extra two servings for the next day by storing the crispy wontons and tuna mixture separately.

1/4th of recipe (3 wonton crisps): 115 calories, 1g fat, 395mg sodium, 16g carbs, 1g fiber, 3.5g sugars, 10g protein

Prep: 10 minutes

Cook: 5 minutes

Ingredients:
12 small square wonton wrappers

2 pouches (2.6 oz.) StarKist Tuna Creations® Sweet and Spicy

1 cup bagged broccoli cole slaw, finely chopped

2 tbsp. low-fat sesame ginger dressing

2 tbsp. thinly sliced scallions

Directions:
Preheat oven to 375 degrees. Spray 2 baking sheets with nonstick spray.

Lay wonton wrappers flat on the baking sheets, evenly spaced. Bake until edges have browned, about 5 minutes.

Remove from sheet, and let cool completely, about 2 minutes.

Meanwhile, flake tuna with a fork in a medium bowl. Add chopped broccoli slaw and dressing, and mix well.

Evenly distribute tuna mixture among wontons. Top with scallions, and enjoy!

MAKES 4 SERVINGS       


Entrée: Veggie-Loaded Spaghetti Amore

Reenact your favorite scene from Lady and the Tramp with my Hungry Girl Veggie-Loaded Spaghetti Amore. This recipe calls for high-fiber spaghetti, which is a smarter version of white pasta, and includes a healthy dose of vegetables. Mixed with creamy (yet guilt-free) tomato sauce and reduced-fat Parmesan cheese, prepare to fall head over heels for this main dish!

1/2 of recipe (about 1 2/3 cups): 312 calories, 3.5g fat, 460mg sodium, 60.5g carbs, 8g fiber, 12.5g sugars, 13.5g protein

Prep: 15 minutes

Cook: 20 minutes

Ingredients:
4 oz. uncooked high-fiber spaghetti

1/2 cup creamy tomato soup with 4g fat or less per serving (like Amy's Chunky Tomato Bisque)

1/4 cup fat-free sour cream

2 tbsp. chopped fresh basil

1/8 tsp. Italian seasoning

1 cup chopped portabella mushrooms

1 cup chopped zucchini

1/3 cup frozen peas, thawed

1/3 cup jarred roasted red peppers, drained and chopped

1 tbsp. reduced-fat Parmesan-style grated topping

Directions:
In a medium-large pot, cook pasta per package instructions, about 8 minutes. Drain and cover to keep warm.

Meanwhile, in a medium bowl, mix tomato soup with sour cream until uniform. Stir in basil and Italian seasoning.

Bring a large skillet sprayed with nonstick spray to medium-high heat. Add mushrooms and zucchini. Cook and stir until softened, about 5 minutes.

Reduce heat to low. Add peas, chopped roasted red peppers, and soup mixture. Cook and stir until hot and well mixed, about 2 minutes.

Add cooked pasta, and stir to coat. Continue to cook until pasta is hot, 1 - 2 minutes.

Serve sprinkled with Parm-style topping. Enjoy!

MAKES 2 SERVINGS


Dessert: Chocolate Chip-Stuffed Strawberries

This guilt-free recipe will satisfy more than just your sweet tooth. It combines fresh fruit, light or low-fat ricotta cheese, and just the right amount of semi-sweet chocolate chips to create the perfect end to a dinner for two lovebirds. Make a double serving, or just share it with your sweetie!

Entire recipe: 96 calories, 3.5g fat, 42mg sodium, 14g carbs, 2g fiber, 9.5g sugars, 3.5g protein

Prep: 10 minutes

Ingredients:
5 large strawberries

2 tbsp. light/low-fat ricotta cheese

1 no-calorie sweetener packet (like Splenda or Truvia)

1 drop vanilla extract

1 1/2 tsp. mini semi-sweet chocolate chips

Directions:
Slice the stem ends off the strawberries, about 1/2 inch, revealing an opening in each berry. Use a narrow spoon to remove about half of the flesh inside each berry allowing room for filling.

In a small bowl, mix ricotta, sweetener, and vanilla extract until uniform.

Spoon ricotta mixture into a bottom corner of a plastic bag; snip off the tip of that corner to create a small hole and squeeze the mixture into the strawberries. Top with chocolate chips and enjoy!

HG Tip! If you want your stuffed berries to stand perfectly upright, cut a thin slice off the bottoms so they sit flat.

MAKES 1 SERVING


For more recipes and tips & tricks from Hungry Girl, sign up for the daily e-mail: Hungry-Girl.com.
Lisa Lillien is a New York Times bestselling author and the creator of the Hungry Girl brand. The founder of hungry-girl.com, the free daily email service, she is obsessed with food––how wonderful it is, and how much of it she can eat and still fit into her pants. More than 1 million fans eagerly wait for Hungry Girl's recipes and tips & tricks each weekday.