Hundreds respond to social media campaign seeking liver donor to save twins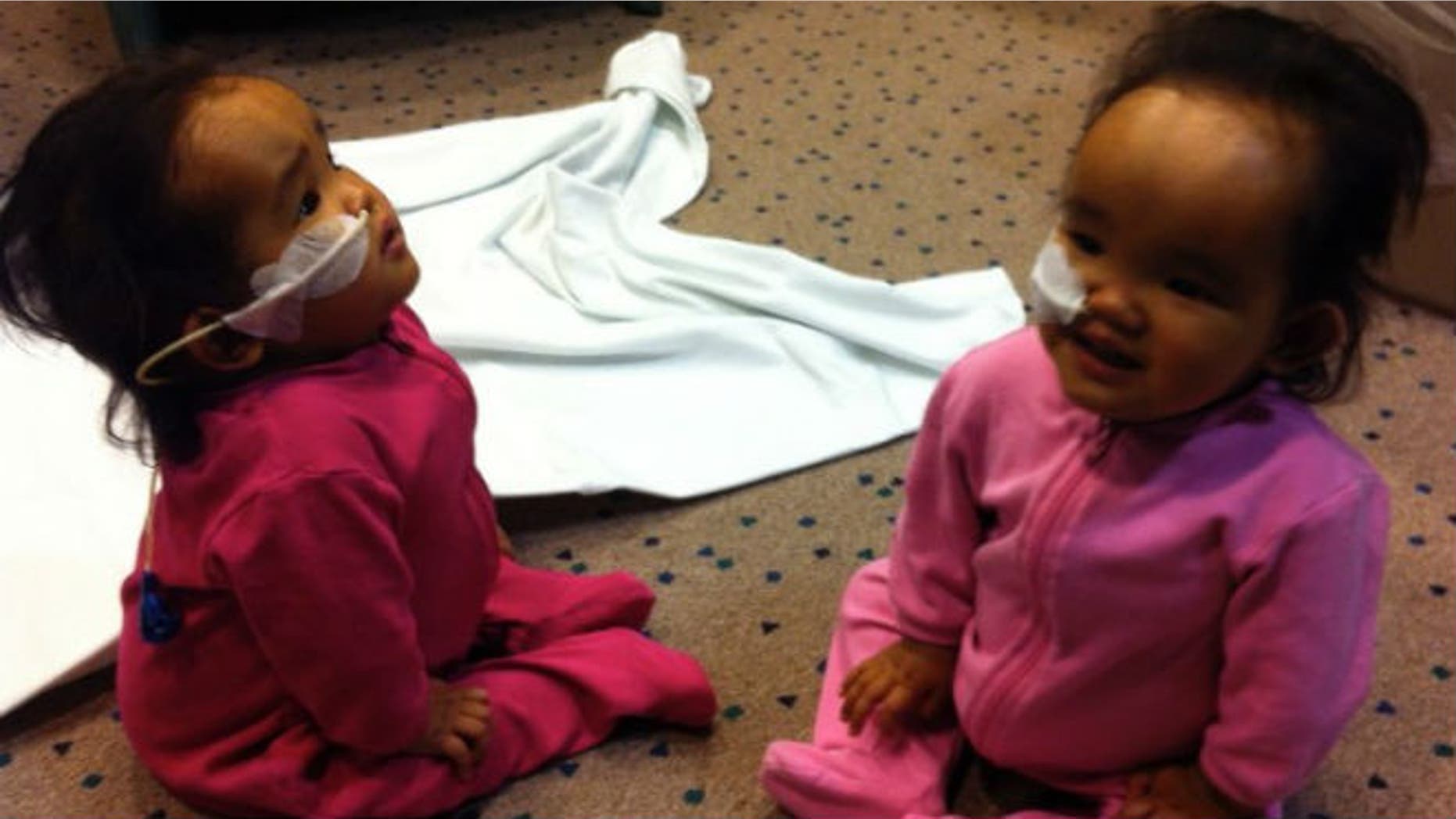 Social media may be the key to saving 3-year-old adopted twins in need of liver transplants— and sparing their father the agony of choosing which of their lives to save.
More than 350 people have reached out and inquired with Toronto General Hospital, and 280 people have faxed their donor application as of Sunday, according to Joanne and Michael Wagner's blog.
A GoFundMe page has been started, with a goal of $20,000 to support the Ontario family of 11 as they wait for liver donations for Binh and Phuoc.
The Wagner family adopted the girls from Vietnam in 2012, knowing that the girls suffered from Alagille syndrome, a genetic disorder that causes irregularities in the liver that can lead to a dangerous build-up of bile that severely damages the organ. The disease is also associated with heart defects, kidney disease, and physical abnormalities, but the effects on the liver are often the most serious.
"We were willing to go through with the adoption, thinking at least we could give them the love of the family and be able to hold their hand until the very end," Johanne told the CBC.
RELATED: 6 Medical Breakthroughs That Matter
Now the girls both need liver transplants, as drugs and other interventions are no longer helping. They recently found out that Michael is a match, but as a "living donor" he can only donate a small part of his liver, once, because of the way tissue regenerates.
Doctors at Toronto General Hospital will make the final call as to which child will receive a portion of Michael's liver, factoring in the severity of each girls' condition.
"We told them we didn't want to be burdened with the decision-making," Joanne told The Globe and Mail. The first operation is expected to take place within the next few weeks.
The Wagners are referring any interested donors to the Toronto General Hospital to see if they're a match.
RELATED: 15 Diseases Doctors Often Get Wrong
Receiving a portion of a liver from a living donor comes with many benefits. It usually lasts longer than a liver from a deceased donor, and there is little to no waiting period—whereas there are nearly 17,000 people currently in the United States waiting for a liver transplant. To be a live donor you don't necessarily have to be a family member of the recipient, but many hospitals want donors that share some sort of an emotional relationship.
RELATED: 19 Medical Tests Everyone Needs
The surgeries do not come without serious risks. For donors, complications like infections, blood clots, damage to surrounding tissue or organs, or even death are possible, according to the American Transplant Foundation. And recipients face the same, plus the small chance of rejection that comes with any transplant.
Click to visit their GoFundMe page.