How to deal with mold contamination after Hurricane Sandy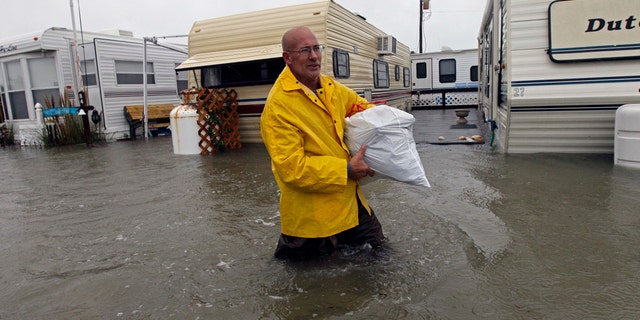 NEWYou can now listen to Fox News articles!
In the wake of Hurricane Sandy, many in the Eastern part of the United States, including the tri-state area, are dealing with flooding and water damage. If areas of your home have been wet for two or more days, you may be dealing with a possible mold problem.
Since patients need to be their own health advocates and take the proper precautions, here are the most important things you need to know when dealing with molds.
-- Molds are usually "seen" or "smelled." Avoid it becoming a significant problem by recognizing and fixing it right away. A musty odor may be first the sign of mold. The greatest likelihood for mold problems will be in flooded homes with greater than three feet of water.
-- Examine your home thoroughly after flooding has receded for tell tale signs of mold. These include water stains and visible signs of green or black mold spores. Excess moisture and water damage generally indicates molds as well.
-- Make sure to clean all your counters and surfaces using disinfectants registered with the Environmental Protection Agency. Visible mold can be wiped up well with bleach and water, but make sure to follow the instructions on the labels of all cleaning products and use them in well-ventilated areas. Opening windows can help to increase fresh air when using disinfectants. You may also need to physically remove drywall and insulation, as well as repairing your gutters.
-- Take items outside that have been wet for two or more days. If your items have been wet this long, they likely already have mold growth – even if you can't see it. For wet cloth items, wash them in hot water. Be sure to dry out all items before considering bringing them back inside.
-- Throughout the cleaning process, it is essential to wear gloves, boots and goggles for protection. Also consider wearing a N95 respiratory face mask, which can be purchased at most hardware stores.
Those with a reduced immune system – such as elderly individuals, people with asthma and lung disease, as well those with mold allergies – are at an increased risk of worsening their disease with mold exposure. To better understand how mold may affect your body and health, utilize the following web resources: www.epa.gov/mold and www.healthy.ny.gov/environmental/emergency.