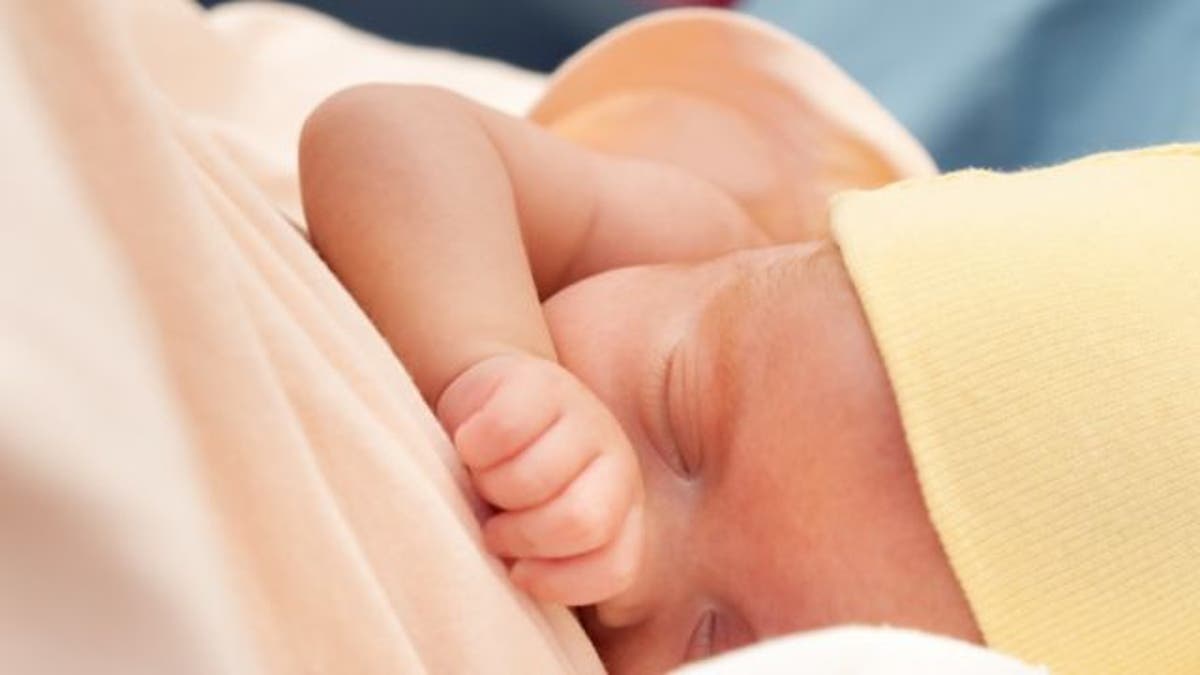 Australian model Nicole Trunfio recently made headlines when she was featured on the cover of ELLE breastfeeding her 4-month-old son. Critics and supporters took sides on the breastfeeding issue— and the hashtag #NormalizeBreastfeeding was born. Whether you believe it should be done in private and out of the public eye or that there's no shame in doing it while walking down the street, research shows one thing is for sure: Breastfeeding has unparalleled health benefits for newborns.
We've long known that breastfeeding outweighs baby formula in terms of nutrient content and reducing risk of infections— and these days, milk banks are popping up all over the country so that mothers who may need extra milk or have trouble producing their own can get human milk for their babies. As of now, milk banks are generally nonprofits where women who are breastfeeding can donate their milk. Groups like the Human Milk Banking Association of North America (HMBANA) have requirements for their donors that include being in good health. They also pasteurize the milk before selling it to hospitals or parents who buy directly from the bank.
While this is an exciting and fairly new concept, milk banks have their pros and cons. And as with anything you give your child, it's important to be cognizant of the benefits and potential risks.
Here's what to know about using an external source for breast milk:
Nothing beats the real thing. But using donor milk is an acceptable alternative and is even more beneficial than baby formula because it still lowers a child's chances of developing conditions like asthma, respiratory tract infections, and even diabetes, like the child's own mother's milk would. Donor milk is also being used to treat babies with low birth weight (LBW). In a 2014 study, nine groups of preterm or LBW infants were given either formula or donor breast milk. The babies who were fed formula had higher growth rates during the trial, but they were at higher risk of developing necrotizing enterocolitis, a severe gut disorder that breast milk (donor milk included) prevents.
Pasteurized donor milk works, too— but use it fast. A 2011 study examined the effects of pasteurization on breast milk. It found that pasteurization removed harmful contaminants and hindered bacterial growth, but it also rendered certain immune components inactive after a certain period of time. Another study, published in the March edition of the Journal of Human Lactation found that when pasteurized breast milk was immediately frozen, defrosted and then stored at 4 degrees Celsius, it could actually maintain its microbiological purity for up to nine days— meaning no bacterial growth accumulated. To optimize the nutritional benefits of pasteurized donor milk, make sure it has been stored properly and use it up within that time frame.
Know where it's coming from. Parents can buy milk from milk banks as well as online, but there is a huge difference between the two. While you may find it more convenient to order breast milk via the internet, a study in February showed that most milk purchased online contained more bacteria than milk purchased from milk banks as a result of the collection, storage and shipping processes. Additionally, milk banks like the HMBANA require an extensive and rigorous donor-selection process that includes drug and blood testing, which online sellers aren't required to do. If you're going to feed a baby breast milk from a donor you're not familiar with, you should use an outlet that screens donors to ensure the milk is safe and of the highest quality possible.
Milk banks offer a valuable service to parents, but it's critical to make sure the organization you're getting breast milk from stores it properly so your baby gets it at full nutritional value. It's also crucial to make sure they've scanned their donors. Being aware of what to look for when using milk banks will help keep your baby healthy— and give you much-needed peace of mind during those 3 a.m. feedings.