Hospice patients more likely to die at home, receive efficient care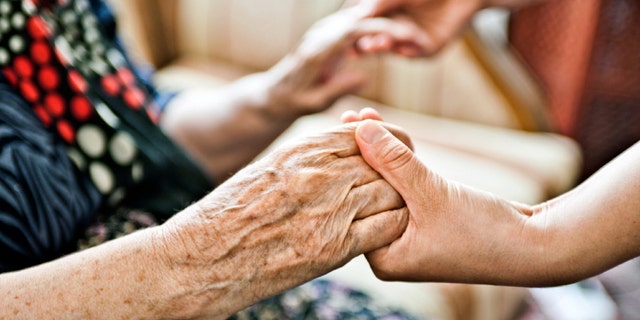 People in hospice are less likely to die in a hospital or nursing home, and less likely to get costly and intensive care, than terminally ill patients who don't opt for hospice care, according to a new study of older Americans with cancer.
Hospice patients endured fewer invasive procedures and fewer hospital stays at the end of their lives. Discussing hospice as an option for the terminally ill may prevent that intensive care, the study's lead author said.
"There is a lot of evidence that a lot of people don't have these conversations," said Dr. Ziad Obermeyer, a physician at Brigham and Women's Hospital in Boston. "So they get sucked into this intense care option without even talking about it."
In the U.S., people with Medicare, the government insurance program for the elderly and disabled, are eligible for hospice benefits if they are not expected to live another six months.
The focus of hospice is on comforting – not curing – the individual, according to Medicare.
Obermeyer, who is also affiliated with Harvard Medical School, said there is still debate over whether or not hospice matters.
"The skepticism is rooted in two distinct points of view," he said, adding that some experts believe people who choose hospice would choose less care by default and some others believe hospice will increase costs.
For the new study, published in JAMA, the researchers used data on nearly 40,000 Medicare patients with poor-prognosis cancers who died in 2011. Half the group chose hospice, and half didn't.
The hospice and non-hospice patients were matched by age, sex, place of residence, survival and how many healthcare services they were using.
Nonhospice patients had more hospitalizations, more stays in intensive care units, and more invasive procedures compared to patients who opted for hospice, the researchers found.
Nearly 75 percent of nonhospice patients died in hospitals or nursing homes, compared to 14 percent of hospice patients.
Patients enrolled in hospice for five to eight weeks had total costs for of $56,986, compared to $74,890 for patients who weren't in hospice.
Surprisingly, Obermeyer said, much of the intensive care the patients received was unrelated to their cancers. Patients often don't want intensive care at the end of their lives, the researchers write.
Since the non-hospice and hospice patients were matched on length of survival, Obermeyer said the additional intensive care did not appear to grant added life to people who stayed out of hospice.
Most people – if given the option – would like to die at home, Obermeyer said.
The researchers can't say hospice caused people to have less intensive and costly care, but it's likely behind the differences, because both groups had similar data for the last year of their life, until some of them enrolled in hospice programs, he said.
While costs and use of care have traditionally been used to measure how people die, it's even more important to focus on the quality of care people receive at the end of their lives, said Dr. Joan Teno, a professor at the Brown University School of Public Health in Providence, Rhode Island.
"I think the historic route of the hospice industry and the hospice movement has always been about patient and family care and not about whether hospice saves money or not," Teno said. "I think it's really important as we craft policy in the U.S. about healthcare reform that we put quality front and center."
In an editorial about the new study, Teno and her coauthor argue that the correct measures of quality are not in place. For example, Teno said, it's important that end-of-life care coincides with people's goals and preferences.
"It's all about trying to achieve quality and efficiency, but you don't want to achieve efficiency while forsaking quality," she said.
Obermeyer said the study is a cautionary tale and that doctors need to have earlier conversations about the end of life.
"Doctors need to be frank about giving patients the information even though it's uncomfortable, so that patients have a choice in the care that they want," he said.