High school football player died of 'blunt force trauma'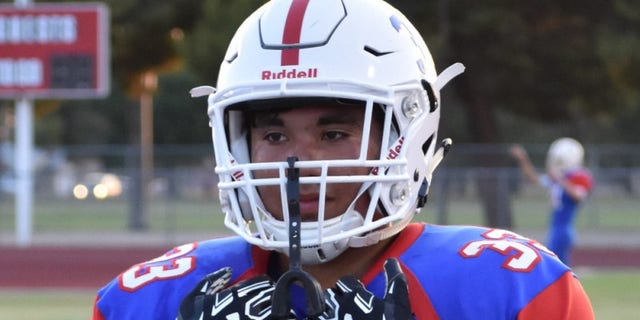 The death of a 16-year-old football player has been attributed to "blunt force trauma," and ruled accidental after he collapsed during a blocking play in an Oct. 20 game. Carlos Sanchez, who played for Moon Valley High School in Arizona, reportedly fell to the ground during the play and hit his head.
Sanchez was rushed to John C. Lincoln North Mountain Hospital in critical condition, and later pronounced dead, AZCentral.com reported. Fellow parents on the team set up a GoFundMe page to help support the family, which had raised more than $34,000 in seven days.
"Carlos as described by his teammates, was a very good young man, very caring, very responsible and had so much respect from peers and others who may have met him," the fundraising page said. "All of the above, came from being part of a loving family. Carlos was the oldest child of Carlos and Rosario Sanchez and was a big brother to 2 siblings."
SORORITY SISTER DIES 3 WEEKS AFTER GETTING HIT IN HEAD BY SOCCER BALL
While Sanchez's coach said he was unable to comment on the play, teammates have spoken out about the injury.
"I was on the field and I turned around and (saw) him standing and then the next thing you know he was laying on the ground not moving at all," teammate Bobby Carlon told AZCentral.com. "They carried him off the field and took him to the hospital."
A school district spokeswoman told AZCentral.com that their "focus continues to be to support the Sanchez family."
Sanchez was a junior at the high school, and played both linebacker and running back for the team. The medical examiner said it would take months to complete a full report.