Health screenings, blood drives prove popular at Brazil's World Cup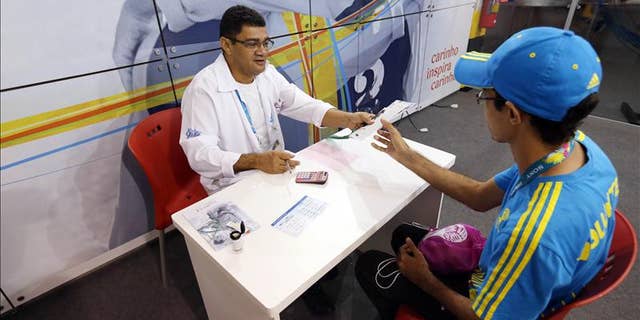 As the 2014 FIFA World Cup Brazil progresses towards the round of 16, it's not only the health of the players that is getting attention. The health of tournament volunteers – and the surrounding community in Brazil – is also getting special treatment.
Notably, more than 14,000 volunteers at the tournament – those in charge of directing fans within the stadiums – are being treated to free health screenings, courtesy of the official health care sponsor of the World Cup, Johnson & Johnson.
"For this group, it's a relatively younger group, so we're focusing on healthy engagement, health and wellness at an early age," Dr. Joseph Ferro, worldwide corporate medical director at Johnson & Johnson, told FoxNews.com. "So they're less likely to have illness later on, it's [focused on] preventative behaviors, healthy behavior and lifestyle."
Volunteers can opt in and pre-register for free health screenings during their downtime, including oral health, glucose and body mass index checks and cardiac health screenings. Participants are then offered health and wellness counseling, to help educate them about how to live a healthier lifestyle.
"We go over diet, nutrition if BMI is high and basic nutrition stuff," Ferro said. "We're inundated with [that information] in the developed world, but it may not be so common in [other] countries. Dietary recommendations and really focusing on [physical] activity is really one of the most important things."
So far, more than 5,100 screenings have occurred throughout the 12 World Cup host cities in Brazil.
The Tour do Carinho
Another Johnson & Johnson health campaign began even before the tournament kicked off and has already been declared a success. The Tour do Carinho, or Caring Tour, launched three months ago with the goal of encouraging and facilitating blood donations throughout Brazil.
"In Europe and America we have strong corporate campaigns for blood donation but many countries in Latin America, they are not so well organized," Ferro said. "There's a tremendous need for blood drives, blood donations."
Less than 2 percent of the population in Brazil donates blood, compared to 5 percent in the US and 7 percent in Europe. At the start of the campaign, a goal was set to collect 80,000 units of blood by the end of the drive. The tour far surpassed that goal, collecting a total of 93,000 units of blood in 48 days.
"This truly reflects [our slogan of] 'Care inspires care,'" Ferro said. "We provide logistics, material for blood donation, but it's the Brazilian people coming out to donate."
As the tournament goes on, health screenings among the 14,000 volunteers will continue – and Ferro hopes that every person screened will bring messages and literature about health and wellness back to their community.
"What we want to do is set a new standard of what the World Cup can bring, bringing the whole issue of health and prevention to the World Cup is a tremendous opportunity," Ferro said.