Girl who lost part of arm in dog attack inspires in swim meet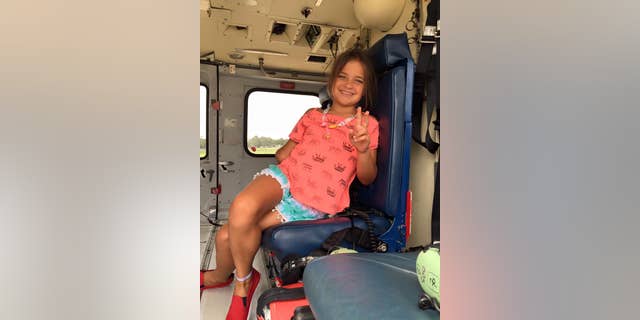 NEWYou can now listen to Fox News articles!
An Australian girl who lost her lower right arm in a dog attack was the star of her school's swim meet, and a video of her race has gone viral since being posted on Tuesday.
Thalia Standley, 8, of the Hunter Region of New South Wales, north of Sydney, was attacked by a dog on Aug. 29, 2015, six days after her birthday. She was playing in a friend's front yard when a dog bit her fingers from under a fence. Help arrived two to three minutes later, but her friend's father initially couldn't pick her up. After 20 to 30 seconds, she was freed— only after the dog had taken her right arm just above her wrist, according to the family's website, Reaching Thalia. Thalia had to have her arm amputated just below he elbow.
According to the site, Thalia has undergone nine surgeries in the past three months and is under constant medical supervision to ensure she heals well.
A video of Thalia racing in her first swim meet has garnered more than 970,000 views so far. In it, the crowd chants her name throughout her race. Swimming freestyle, Thalia gets assistance from an adult toward the finish, and comes in last to huge cheers.
"It felt real happy," Thalia told the TODAY show Australia on Friday.
Thalia lost her lower arm in a dog attack last year, and now just six months later she's warmed the hearts of Australians, showing us what true determination and courage looks like! #9Today

Posted by TODAY on Thursday, February 18, 2016