Georgia teen battling Lupus in search of kidney donor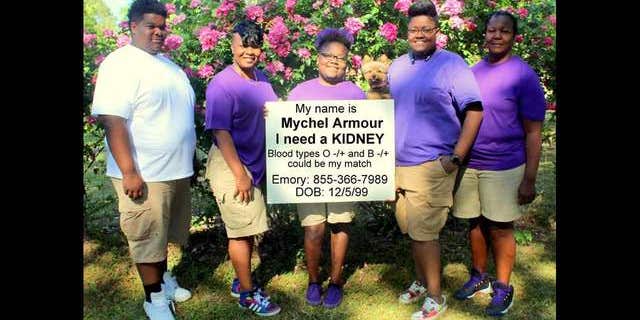 NEWYou can now listen to Fox News articles!
A Georgia teen is forced to spend her summer indoors rather than outside with friends as she waits for a kidney and takes upwards of 20 pills per day. Mychel Cunningham Armour, 16, was diagnosed with Lupus at age 9, Fox 5 Atlanta reported.
The teen suffers from high blood pressure, seizures, kidney and heart issues, and is currently undergoing chemotherapy.
"She won't stop," Jacqueline Armour, Mychel's mother, told Fox 5 Atlanta. "We're like, 'Lay down, you just had chemo,' she won't stop. She wants to move, she wants to go."
The family has had some experience with the autoimmune disorder as older sister Elantra Cunningham was diagnosed with a milder form of it in 2014. She told Fox 5 Atlanta she helps push her sister through her illness to make sure she keeps up with school.
In April, doctors approved Mychel for a kidney transplant which will help with her nightly routine. Currently she has to sleep tethered to a dialysis machine for nine hours as it works to remove toxins from her blood.
"It buzzes and beeps all the time," Jacqueline told Fox 5 Atlanta.
But now the family must find a donor. They've started a Facebook page called "Find a Kidney for Mychel Armour," to help raise awareness and raise funds for the procedure. They're also working with the Children's Organ Transplant Association to help with costs not covered by insurance.
"We are just kind of waiting for that call," Jacqueline told the news station. "Sitting by the phone, waiting."
Lupus affects about 5 million people worldwide, including an estimated 5,000 to 10,000 children in the U.S., according to Boston Children's Hospital.
A new kidney would mean Mychel could swim with her friends and go back to having sleepovers.
"Because I won't have to be on the machine at night anymore," she told the Fox 5 Atlanta.