Georgia dad drops 125 pounds by copying habits of fit people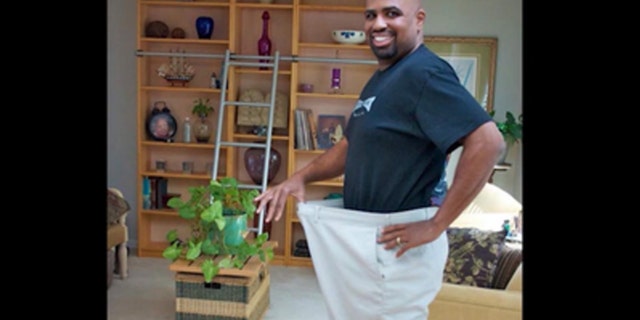 A Georgia father of three teenage boys who once ate three cans of Pringles per day has dropped more than 125 pounds by copying the habits of healthy people. The wakeup call for Dion Baynard, now 46, came when he had triple bypass surgery after a heart attack, Fox 5 Atlanta reported.
Five years ago, the married Gwinnett County man was lying on the couch when a sharp pain shot down his left arm. He was having a heart attack.
"And I really didn't believe it," he told Fox 5 Atlanta, "because you think of having a heart attack, you clutch your chest, grab the table cloth and fall over and pull everything down."
After the triple bypass, doctors told him that he if didn't get his diet under control, he would die.
"I was not active at all," Baynard told Fox 5 Atlanta. "I had no control over my diet. I was eating a lot of fast food, processed food, sugar."
"I started thinking to myself, if you want to be skinny, you've got to do what skinny people do," Baynard said. "I noticed that most people riding bicycles were fit, so I went out and got a bicycle."
In the first month, he dropped 5 pounds by making subtle changes to his diet and making an effort to move more. Then he started making small goals to go outside with his shirt off, walking his dog and hiking with friends.
Baynard also told Fox 5 Atlanta that he adopted a plan to eat well 80 percent of the time because even fit people aren't perfect.
"I love Key Lime pie, but instead of a whole pie, I just have a slice," he told the news station.
Since his weight loss, Daynard decided to take courses to become a community health educator so he can help others get healthier. He's also writing a book about his transformation.
"It's a whole different world," he told Fox 5 Atlanta. "I really feel more confident about myself. I feel better about myself. I like what I see in the mirror now. There was a point where I pretty much became invisible."