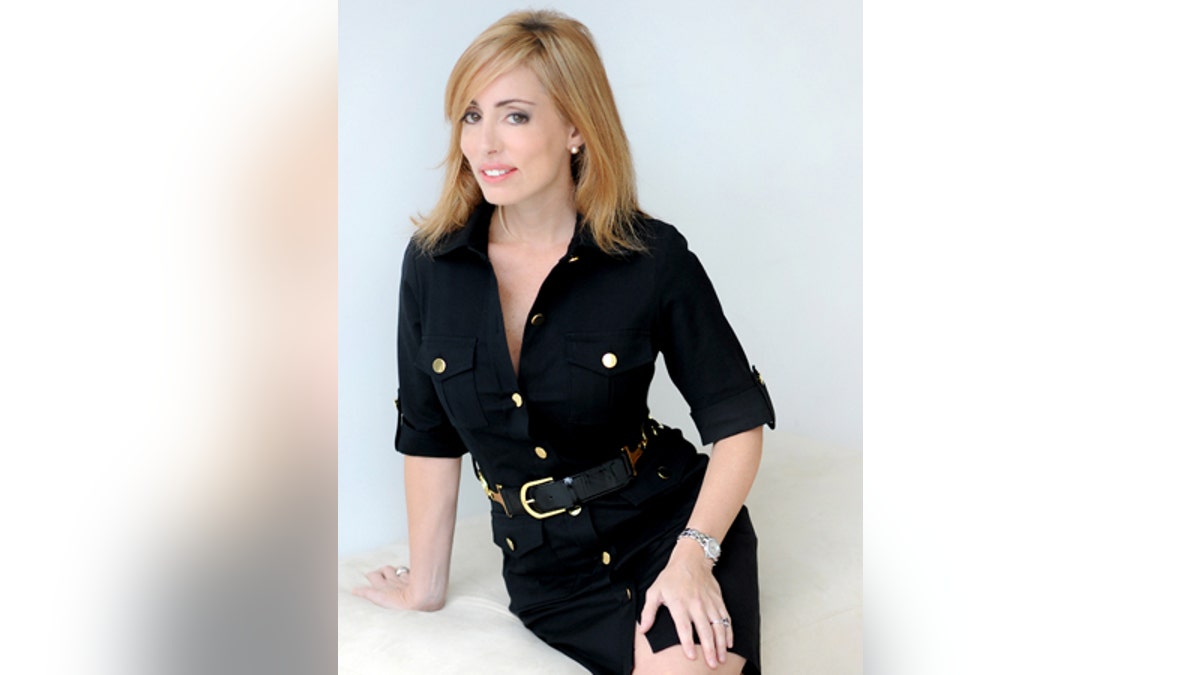 It was a situation I never imagined I'd find myself in, standing naked in the middle of a gorgeous, light-filled loft in downtown Los Angeles, an artist painting me with her hands, a matboard waiting at my feet on which I would leave the impression of my bared skin. But I'm getting ahead of myself.
One sleepless night, I found myself watching Sexcetera, a sex themed "news" show. Occupational hazard. There was a piece about an artist who created what she called Body Imprints by painting her subjects' naked bodies, pressing their bodies onto colorful boards, and then embellishing them.
I was Googling before the show even ended. I sent the artist, Donna Marie Kent, an email soon thereafter.
"I'd love to imprint you," she wrote. "If you're game." It sounded like a challenge, and I didn't even consider declining.
But as the day grew closer, I started to get nervous. What was I thinking? Why on earth would I want to do this? Immersion journalism is one thing. But was being painted naked by a stranger and then having my nakedness documented forever really such a hot idea?
We met a few days before the printing, as Donna Marie does with all of her clients, so we could get to know one another. She asked me all sorts of questions about my favorite colors and who I saw myself as. We discussed the process itself and she asked if I had any questions.
"I'm nervous," I told her candidly.
"You'll be great," she said. "Trust me." And, for some reason, I did.
I showed up at her studio the next day with my friend Elizabeth in tow for moral support. A spread of snacks and drinks awaited us and for a few minutes it felt like we were just a couple of girls hanging out and talking art. And then I remembered once again what we were doing there.
"You ready to get down to business?" Donna Marie asked me. Oh right, I thought — the naked painting thing.
"Ready as I'll ever be," I said.
Donna Marie showed me how to get down on the matboard and up again without messing up the print. Thank goodness for all of that yoga I had been taking. Then it was time to strip down. It only felt weird for a minute, and having a close friend there to cheer me on definitely helped.
But what helped even more was how genuinely warm and kind Donna Marie was. She stood in front of me and looked at my body. It was the strangest feeling. No judgment. No appraisal. Just appreciation for the female form and excitement at practicing her art. Suddenly I didn't feel naked. I just felt excited.
"Ok," she said, smiling. She slipped on a pair of latex gloves and began to cover me with swirls and arcs of paint in one color and then another. It was exhilarating. And, yes, sexy. The feel of the cold paint. Being raised to the level of artist's subject. Just the act of standing naked in a vast loft filled with art and light. Instead of being terrified, I felt powerful and, honestly, beautiful.
Just as we had practiced, when Donna Marie was satisfied with her paint application, she helped me down onto the matboard, pressed me into it, and then helped me up again. The print I left was abstract and wild. I loved it and was anxious to see what Donna Marie would do to it. That was when the real magic would happen, I was told.
"Can I watch?" I asked.
"Nope," she said. "That part I never share." It felt so mysterious. I loved it. When I walked into the bathroom to take a shower, I caught a glimpse of myself in the full-length mirror. I looked as if I had gone native. And as I watched the paint swirl down the drain, I felt sad to see it go. Like my sexy superpowers were melting away.
But even though the paint was gone, the feeling it inspired remained, and I left the studio feeling like a rock star.
Six weeks later, the package I had been waiting for finally arrived. The painting. My painting. Me. Donna Marie was right. She could transform organic swaths of paint into a portrait. Swirls and twists and lines traversed the paint and tiny embellishments were added to bring life and movement to the piece. The result was nothing short of inspiring. It was me, only better
I had modeled naked before for painters and sculptors and photographers. But it was in my much younger days. And I was the subject alone. Not the material as well, as I was with the body imprint. There was something incredibly sexy about being handled like one of the artist's tools. Paint. Check. Matboard. Check. Naked body. Check. I liked it. A lot. And I would definitely do it again.
Donna Marie imprints lots of people, from pregnant women to couples to the occasional celeb, and she says their experiences all share one thing in common.
"No matter how they feel about their bodies when they come to me," Donna Marie explained, "they leave feeling the power of their own allure. It's electric."
As for the finished product, I don't know where we'll hang it just yet. But I do know one thing, every time I look at I will remember what a sensual experience it was. The smell of the paint. The feel of it on my skin. The sense of power. And I will forget about the imperfections I accuse my body of. Amazing what a little paint – and conquering your fears – can do…
Jenny Block is a freelance writer based in Dallas. She is the author of "Open: Love, Sex, and Life in an Open Marriage." Her work appears in "One Big Happy Family," edited by Rebecca Walker and "It's a Girl: Women Writers on Raising Daughters," edited by Andrea Buchanan. Visit her website at www.jennyonthepage.com or check out her blog at wwww.jennyonthepage.blogspot.com.