Florida baby weighs 13 pounds, 5 ounces at birth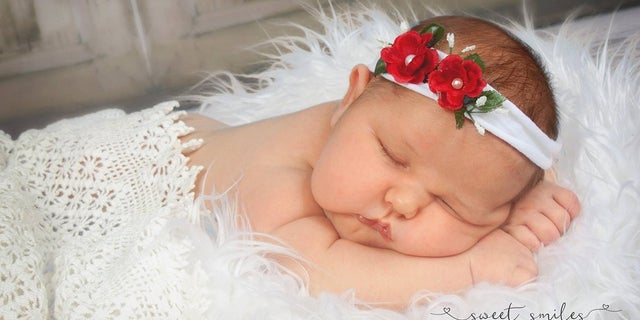 NEWYou can now listen to Fox News articles!
A Florida mother gave birth last month to a baby girl who weighed 13 pounds, 5 ounces -- but fortunately mother and daughter are doing OK.
Christine Corbitt delivered her third child, Carleigh Brooke, at the Orange Park Medical Center on May 15, Fox 30 reported.
"When the baby was coming out, I was like, 'is this baby ever going to end?'" Dr. Eric Edelenbos, who delivered Carleigh, told the news station.
Edelenbos said Carleigh is the largest baby he has delivered in his career.
ORLANDO SHOOTING: 'DISGRUNTLED' EX-EMPLOYEE HAD PLANNED SHOOTING, INVESTIGATORS SAY
"I've had nine-and 10-pound babies and I figured maybe she'd be 10 pounds," Corbitt said. "I'd have another 10-pound baby, but she was a surprise."
Baby Carleigh experienced gestational diabetes when she was first born, so she had to remain in a neonatal intensive care unit briefly until her blood sugar levels were normal.
ARIZONA COUPLE FINDS 1963 WEDDING ALBUM IN THEIR FLORIDA HOME'S CEILING
Carleigh's mother said she does not intend to have any more children for the time being.
"I'm done. I'm done. No more babies for me," Christine said.