Family refuses to remove birthmark on baby's face with plastic surgery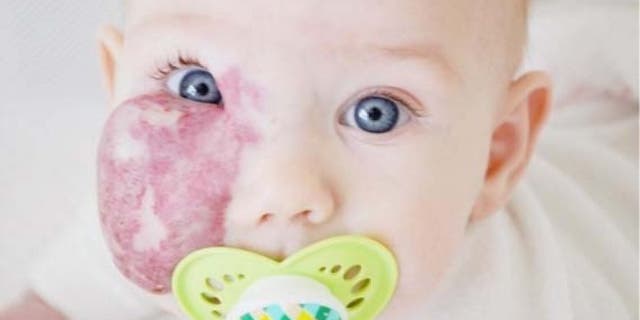 When Katie Crenshaw penned a blog for her website, Twelve & Six, detailing the pity she received over daughter Charlie's unique birthmark, she had no idea that the post would turn her 7-month-old tot into an internet sensation.
"I sent it to a website that caters towards parents that have children with differences or disabilities, from there it went viral," she told Barcroft Media. "I had no idea that it was going to get the attention or response that it got. After it went viral, there was way more people that could relate to it than I would've imagined."
Baby Charlie's mark, capillary hemangioma or "a strawberry," is the result of a tumor with an abnormal overgrowth of tiny blood vessels. And while it covers most of the tyke's right cheek, Crenshaw notes that the blue-eyed toddler herself hardly notices it.
"Charlie is a healthy baby girl and we are blessed. Her hemangioma is just as insignificant to who she is as a freckle on her arm," Crenshaw said.
"She's just a normal little girl who does everything every other baby does. Except that she's cuter in our eyes," added Charlie's father, Tyler Crenshaw.
While the Crenshaws, who live near Atlanta, have received plenty of positive messages, including remarks from their 13,000 Instagram followers, they find that the most hateful commentary sometimes comes from where it's least expected.
"Family friends have said, 'It's a shame, she'd be so pretty if she didn't have it,'" she told Barcroft.