Epipen was Mylan CEO's 'baby': Now she's in the hot seat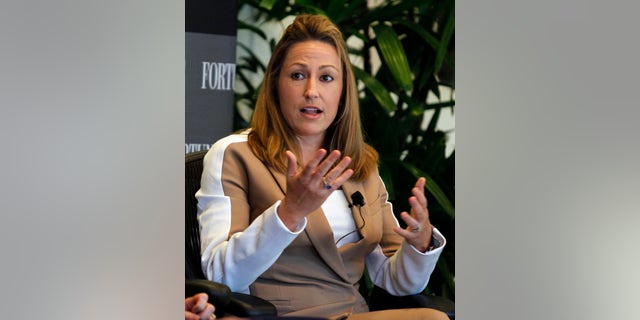 NEWYou can now listen to Fox News articles!
Drug company CEO Heather Bresch affectionately describes the humble EpiPen as her "baby," a once-middling product that she turned into a blockbuster.
With aggressive advertising — and even more aggressive price hikes — Bresch has fostered the EpiPen into a bestseller that brings in more than $1 billion a year in revenue for Mylan Pharmaceuticals.
But the growing furor over drug pricing threatens to turn Mylan's biggest asset into a liability. And it has forced Bresch into an unwelcome spotlight, as anxiety over the rising cost of medicine has drug industry critics seeking out the next Martin Shkreli.
In the past week, Mylan has faced public scorn, investor skepticism, and castigation from a group of senators calling for an investigation into why EpiPen's cost has soared fivefold under Bresch's watch. Even Shkreli, widely perceived as a paragon of greed after hiking a drug price by 5,000 percent, decried Mylan as a group of "vultures."
The EpiPen, an auto-injector used to reverse life-threatening allergic reactions, is inextricably tied to Bresch, whose ascension at the company tracks with the product's rapid growth.
At 47, Bresch has spent most of her life at Mylan, working her way up from a secretarial desk in the basement of what was then a small West Virginia firm. In the ensuing years, Bresch has overcome an academic scandal, hostile takeover attempts, and questions about her true control over Mylan.
She has also become one of the drug industry's highest-paid CEOs, pocketing more than $18 million in cash and stock last year, and sitting at the head of a $26 billion enterprise.
Now, as the specter of a Senate investigation looms, Bresch faces what could become her biggest challenge. And, befitting her uncommon career, it comes with a twist: Among the Senate's membership is her father, Joe Manchin, a populist West Virginia Democrat whose influence is woven throughout her rise in the drug industry.
Spotting potential in a humdrum product
Bresch first adopted EpiPen in 2007, when Mylan purchased the generic drugs division of Germany's Merck KGaA for $6.7 billion. It was a milestone for the growing company, and then-CEO Robert Coury appointed Bresch to sort out the integration.
EpiPen was one of about 400 products that Mylan acquired in the deal. And it was unremarkable in business terms: a plastic device that, with the push of a button, injected what Bloomberg has estimated to be about a dollar's worth of the generic hormone epinephrine to treat deadly anaphylactic shock. It sold for about $57 and made just $200 million a year for Merck KGaA, accounting for less than 5 percent of the company's generics revenue at the time.
Bresch saw potential in the decades-old auto-injector, and Mylan credits her with spearheading an effort to widen its use. But her drive to make the EpiPen a top seller was almost derailed before it started.
Bresch was promoted to chief operating officer at Mylan shortly after the deal with Merck KGaA. The official corporate announcement touted her MBA from West Virginia University. Months later, an exhaustive investigation by the Pittsburgh Post-Gazette revealed that she hadn't finished the MBA program — and a later independent report found that university officials had falsified her transcripts to conceal that fact, adding in grades "pulled from thin air."
The scandal shined a light on Bresch's status as a member of coal country royalty. Her father, Manchin, was then West Virginia's governor. And the university's leadership included longtime family friends and Mylan insiders.
Bresch held onto her job at Mylan, maintaining that she had done everything she needed to do to earn that MBA. Neither she nor her father was accused of wrongdoing. But the episode reeked of cronyism and sparked a faculty protest. WVU's provost and business school dean later resigned, and the university revoked Bresch's degree.
Both Bresch and Mylan declined to comment. Manchin's office didn't return voicemails left Tuesday.
While the affair was embarrassing for the university, it had little effect on Bresch's career.
Bresch soon became Mylan's president and began a crusade to expand the availability of EpiPens. Drawing on her experience as Mylan's former director of government relations, Bresch led a lobbying campaign to spread the word about the risks of anaphylaxis and the efficacy of EpiPen.
Mylan scored a coup in 2013 with the adoption of the School Access to Emergency Epinephrine Act, which gave preferential federal treatment to schools with EpiPen stockpiles. Sales increased, and Mylan raised the price of its banner product each year.
Questions about corporate control
In 2011, Coury surprised Wall Street by announcing that he'd step down from the CEO role at year's end, leaving Bresch as his anointed successor. It was to be a major culture shift for Mylan, which had become synonymous with Coury's blunt, often profane way of conducting business. Bresch, with her lilting West Virginia accent and political savvy, presented a new way forward for a company that had underperformed in the eyes of many analysts.
But Coury never really went away, instead taking on the title of executive chairman. And in the years since Bresch became CEO, it has often been unclear just who is pulling the strings at Mylan.
Last year, when Israeli drug maker Teva Pharmaceutical mounted a hostile takeover attempt, it was Coury who acted as Mylan's mouthpiece, baiting the other company's management team and penning a searing 3,000-word letter to its board. At the same time, he starred in Mylan's failed attempt to acquire rival generics firm Perrigo, sparking a bitter public feud with that company's CEO before eventually admitting defeat.
In Mylan's last annual report, the opening note to shareholders is signed by both Coury and Bresch. And letters to the company end up at the Robert J. Coury Global Center, a 280,000-square-foot Pittsburgh outpost christened in 2013.
A 'patriot' decamps for foreign shores
But Bresch was front and center for Mylan's most recent controversy, a politically sticky situation that again looped in her father.
In 2015, Mylan announced that it would move some of its operations overseas in search of a more favorable tax rate. The tactic, known as an inversion, exploits what President Obama has called "one of the most insidious tax loopholes out there." For Mylan, inversion meant shifting its business address to the Netherlands through a complicated transaction with Abbott Laboratories.
Manchin, who learned of the move only on its official announcement, told The National Journal that what his daughter did ought to be illegal. (He later gave a statement to The New York Times saying Mylan's move was "systemic of a larger problem with our corporate tax code that puts American companies at a disadvantage with their global competitors.")
This put Bresch in an awkward spot.
Mylan had long painted itself as a different sort of drug company, one principally concerned with stakeholders — like patients and employees — rather than the short-term profits of shareholders and investment banks. And Bresch had once been hailed by Esquire as a "patriot of the year" for her work to improve safety standards for generic drugs.
So why was her company leaving home in the name of corporate profits?
Bresch's spin: Mylan needed to ditch the United States to stay in the US. Setting up shop in the Netherlands provided tax savings, sure, but it also gave Mylan the protection of Dutch law, which makes it easier for companies to fend off hostile acquisitions. At the time, Teva was trying to galvanize a shareholder revolt to depose Mylan's management, something Bresch said could have imperiled patients and employees.
"I said, 'You know, Dad, we have 5,000 employees in Morgantown, W.Va. — we're one of the largest employers in West Virginia,'" she told an audience at Fortune's Most Powerful Women Summit in 2015. "I can guarantee you, if we don't protect ourselves, no one's going to protect those jobs."
Senators take aim at EpiPen price hikes
Explaining EpiPen's 450 percent price increase may prove more difficult, as the public outrage that once dogged Shkreli's Turing Pharmaceuticals has shifted to Mylan.
Senator Amy Klobuchar (D-Minn.) has called for the Federal Trade Commission to investigate Mylan's pricing practices, writing Monday that "not only is this alarming price increase unjustified; it puts lifesaving treatment out of reach to the consumers who need it most." The same day, Senator Chuck Grassley (R-Iowa) wrote Mylan asking for information on how it set the price for its auto-injector, and Senator Richard Blumenthal (D-Conn.) called for the company to lower the cost of EpiPen.
Days before, Senator Bernie Sanders had tweeted that "there's no reason an EpiPen, which costs Mylan just a few dollars to make, should cost families more than $600." A MoveOn.org petition, titled Stop Immoral Price Gouging for Life-Saving EpiPen, had garnered nearly 19,000 signatures as of Tuesday night.
In a statement, Mylan defended its patient-access programs, which it said provide EpiPens for free to 80 percent of insured patients. But the company did not address price increases or their effect on patients without insurance.
Meanwhile, some shareholders are losing faith. The company's stock price has fallen more than 30 percent since last summer, when Mylan finally shook off the threat of a takeover by Teva. In May, Goldman Sachs downgraded Mylan, citing a "cloud over generic drug pricing."
And on Tuesday, analysts from Citigroup warned that the current public focus on EpiPen pricing could weigh down Mylan's stock, especially if the company has to appear before a Senate committee.
If Mylan loses too much value, it could struggle to defend itself from a future hostile takeover. But Bresch herself is well-insured: According to a recent analysis from Bloomberg, if she's deposed in a merger, she's in line for a $61.5 million golden parachute.