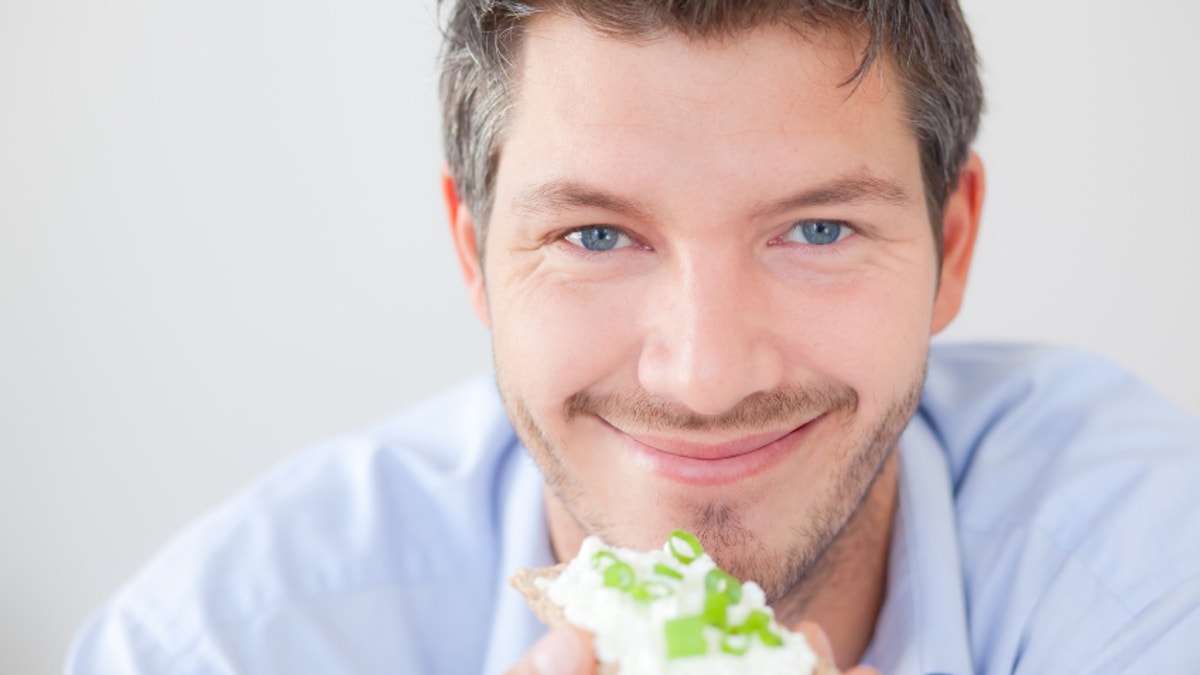 Some things are sadly predictable. Extra winter poundage, for instance. Or holiday binges. Or the 3 o'clock slump, which sags before you like a hammock every afternoon.
Here's a happier prediction: Eat more often and you'll avoid all of those problems. Spreading six smaller meals across your day operates on the simple principle of satisfaction. Frequent meals tame the slavering beast of hunger.
The secret? Each mini meal should blend protein and fiber-rich complex carbohydrates. "Protein and fiber give you that feeling of satiety and keep you from feeling hungry," said Tara Geise, a nutritionist in private practice in Orlando and a spokeswoman for the American Dietetic Association (ADA).
Controlling hunger shrinks your gut. In a study published in the International Journal of Obesity, one group of overweight men was given five small meals, then was free to choose a sixth meal. A second group ate a single meal containing the same number of calories as the total of the other group's first five meals, then later had a free-choice second meal. The six-meal men ate 27 percent less food at their last meal than the two-meal men did at their second.
(Eat more, stay full longer, and still lose serious weight with these 7 Ways to Outsmart Hunger.)
Consistent eating will also keep your protein levels high, helping you build muscle. "Your body can metabolize only so much protein at one time," said Katherine Tallmadge, author of Diet Simple. "Protein is metabolized better when it's divided evenly."
The challenge is keeping the mini meals mini. "It's critical that at the end of the day, the calorie content of your mini meals does not exceed what you would eat in three larger meals," said Jeannie Moloo, an ADA spokeswoman in Roseville, Calif. If you already know your calorie count, start eating.
With a suggested calorie count in hand, you can mix and match from the list of meals shown here. Yes, you can take two items from one meal list—if they're small. Looking to lose? Choose lower-calorie options. Regular Joe? Be as flexible as you please. Building muscle? Double up on a couple of the items—have an extra slice of pizza or two containers of yogurt.
Breakfast: 6-8:30 a.m.
You're sleepy, so we'll keep it simple: Mix protein and quality carbs. "When protein is included in a meal, not only does it help prevent overeating at other times of day, but it also sustains energy levels and improves concentration," said Bonnie Taub-Dix, an ADA spokeswoman.
This means choosing a milk-infused latte instead of plain coffee, or a slather of peanut butter along with the jelly on an English muffin. Do not leave home without breakfast—this is the foundation for the rest of your day.
1. 110 calories: Latte with reduced-fat milk
2. 140 calories: Skippy brand Squeeze Stick of peanut butter
3. 200 calories: 1 cup reduced-sodium cottage cheese with fresh peaches and cinnamon
4. 200 calories: 1 cup blackberries, blueberries, or strawberries with 6 ounces light yogurt and 1 tablespoon low-fat granola
5. 250 calories: Any-way-you-like-it egg on a whole-grain English muffin with melted cheese
6. 250 calories: Oatmeal made with milk instead of water; add brown sugar, walnuts, and/or any fresh or dried fruit
7. 260 calories: Cold whole-grain cereal, such as Kashi or raisin bran, with reduced-fat milk
8. 300 calories: Peanut butter and jelly on a whole-grain English muffin
9. 300 calories: Scrambled-egg burrito with turkey sausage and salsa
10. 300 calories: Two-egg omelet with spinach, mushrooms, and feta cheese
(Don't start your day with a diet disaster. Avoid the 18 Worst Breakfasts in America.)
Morning Snack: 9:30-10:30 a.m.
Planning matters. If there's nothing but junk in your workplace vending machines, buy the foods you need—string cheese, granola bars, trail mix, whatever—and keep a stash at your desk.
1. 80 calories: Stick of string cheese
2. 100 calories: Hard-boiled egg with a handful of grape tomatoes
3. 180 calories: Nature Valley granola bar
4. 250 calories: Ready-made reduced-fat smoothie, such as Stonyfield Farm
5. 250 calories: Clif bar
6. 275 calories: 2 or 3 small handfuls of trail mix
7. 290 calories: Kellogg's Nutri-Grain bar with a handful of pistachios or almonds
8. 300 calories: Slice of whole-grain bread topped with peanut butter and banana
9. 300 calories: Small bagel with 2 slices of Muenster cheese, melted
10. 400 calories: Medium-size fruit muffin (best if made with whole-wheat flour)
(We crunched the numbers for the smartest grab-and-go snacks: The Best Nutriton Bars.)
Lunch: 12-1:30
Be careful here! If you've had only a latte, fruit, and some string cheese so far, go ahead and have a big lunch. But if you've already eaten 700 calories (an omelet and a muffin, say), keep lunch light. Whatever you do, eat slowly, no matter how un-American that seems. It'll help you feel satisfied—and keep you that way.
1. 175 calories: Canned tuna with balsamic vinegar on whole-grain crackers or bread
2. 300 calories: 3 corn-tortilla flautas stuffed with refried beans and dipped in salsa
3. 350 calories: Half an avocado, sliced, or ½ cup prepared guacamole with tomato and onion in a whole-grain pita
4. 375 calories: Baked potato with chopped broccoli and a slice of American cheese, melted
5. 400 calories: Seafood salad in a whole-grain pita with diced tomato, cucumber, and onion
6. 400 calories: 3 or 4 slices of bacon, reduced-fat Cheddar cheese, thin apple slices, and peanut butter on toasted whole-grain bread
7. 400 calories: ½ cup hummus with roasted vegetables
8. 400 calories: Small ham-, turkey-, or roast-beef-and-Swiss wrap with vegetables and mustard, in a whole-wheat tortilla
9. 400 calories: Fresh mozzarella and tomato slices on a bed of greens, with balsamic vinaigrette and extra-virgin olive oil
10. 450 calories: Six pierogi with salsa or reduced-fat sour cream
("Upgrade your cooking skills, impress your date, and reinvent your diet with 150+ easy, chef-approved recipes and tons of useful kitchen tips in Guy Gourmet cookbook.")
Afternoon Snack: 2:30-3:30
Steer clear of the candy bowl on your P.A.'s desk. "You could eat four small chocolates for 100 calories," says Geise, "or you could eat a cup of yogurt." The chocolate gives you hardly any protein; the yogurt delivers 8 grams.
1. 160 calories: Reduced-fat Cheddar melted on apple halves
2. 175 calories: 5 Laughing Cow cheese wedges
3. 200 calories: ½ cup baba ghanoush (roasted-eggplant dip) with vegetables
4. 210 calories: Half a container of Cracker Jack
5. 250 calories: 1 cup reduced-fat yogurt
6. 250 calories: Small handful of chopped pecans over a cup of fruit salad
7. 260 calories: Apple, pear, or banana smeared with peanut butter
8. 300 calories: Cup of chickpeas with a dash of cumin and fresh mint
9. 340 calories: 2 ounces roasted nuts
10. 350 calories: 1 cup each fat-free milk and frozen yogurt blended with a spoonful of peanut butter
Dinner: 5:30-7:30 p.m.
Okay, this isn't dinner as you used to know it. But don't panic. At first, reining in meal sizes will seem strange. But portion control can make or break the plan. "This is crucial, whether you're looking to control weight, manage blood sugar, or maintain energy levels," said Tallmadge. And remember—you'll be eating again in two hours.
1. 200 calories: 2 cups mixed vegetables (fresh or frozen) with ½ cup marinara sauce and some grated Parmesan cheese
2. 275 calories: 3 or 4 large handfuls of greens sautéed in olive oil with a handful of walnuts and ½ cup raisins
3. 300 calories: 6-piece sushi meal with a cup of miso soup
4. 325 calories: Buffalo burger topped with coleslaw, onion, and tomato
5. 350 calories: Quesadilla made with a small corn or whole-wheat tortilla, cheese, beans, shredded chicken or lean ground beef, onion, and jalapenos, and dipped in salsa
6. 400 calories: Slice of pizza topped with cheese and ground beef or ham
7. 400 calories: Turkey London broil cut into strips, sautéed with onion, red and orange bell pepper, and teriyaki sauce
8. 450 calories: Small plateful of nachos—baked tortilla chips, shredded reduced-fat cheese, refried beans, and salsa (plus some corn or black beans, if you want)
9. 500 calories: Lentil, minestrone, or tomato soup with a grilled-cheese sandwich on whole-grain bread
10. 550 calories: 1 cup pasta tossed with browned ground turkey breast, black olives, diced onion, a drizzle of olive oil, and 1 ½ tablespoons crumbled Gorgonzola cheese
Evening Snack: 8:30-10 p.m.
Famished? Feeling as if this was the longest day of your life? Maybe your calorie count is too low. Adjust it by adding more sensible foods to your plan. Or try choosing higher-fiber foods; they're digested slowly, so they'll help you feel fuller longer.
1. 150 calories: 5 cups Jolly Time light microwave popcorn sprinkled with hot sauce and/or 1 tablespoon Romano cheese
2. 150 calories: 1 cup rice pudding
3. 150 calories: 6 or 7 strawberries dipped in yogurt and drizzled with chocolate sauce
4. 150 calories: 1 cup cocoa made with skim milk
5. 175 calories: Sliced sweet potato (with skin), tossed in olive oil and baked
6. 175 calories: 1 cup skim ricotta cheese sweetened with Splenda, vanilla flavoring, and a dash of nutmeg or cinnamon
7. 175 calories: Seltzer with 2 scoops frozen yogurt, a handful of berries, and a shot of flavoring syrup, such as strawberry or cherry
8. 200 calories: Root-beer float with 2 scoops frozen vanilla yogurt
9. 200 calories: 2 handfuls olives
10. 275 calories: 2-ounce Snickers bar