Dietary fiber and reduced breast cancer risk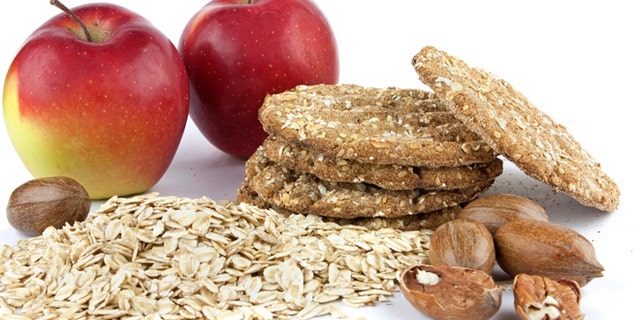 NEWYou can now listen to Fox News articles!
It is known that eating a diet high in fiber helps with weight loss, reduces cholesterol, helps control blood sugar, reduces risk of colon cancer and leads to an overall healthier life. A recent study, published in the Journal of the Academy of Pediatrics, confirmed an additional benefit of fiber: its ability to reduce the risk of breast cancer in adolescent women.
The study found that in early adulthood, each 10 grams per day increase in fiber was associated with a 13 percent decrease in breast cancer risk.
Here are 5 easy ways to add an additional 10g of fiber to your school day:
Berry Breakfast
Berries are a great addition to your breakfast because they are the highest in fiber out of all the fruit. By adding one cup of raspberries to your breakfast you get 8 grams of fiber and only 60 calories. Make it a complete meal by enjoying the raspberries with one single serve container of Greek yogurt and sprinkle with high fiber cereal to send your fiber intake to double digits.
Wrap it up
There are delicious and nutritious high fiber tortillas on the market for you to enjoy. Try choosing one with 9-10 grams of fiber per tortilla. Make a delicious wrap by spreading with hummus and adding grilled chicken. And boost the fiber content even more by adding your favorite veggies like shredded carrots, spinach leaves and tomatoes.
Go Italian
Who knew that a pasta salad could be so high in fiber and nutrients? It can be if made the right way. Start with a high fiber pasta. There are many on the market, and they usually taste just as good as regular pasta, especially with the sauce. There is also high fiber pasta using white fiber that is worth a try. Choose one with at least 6 grams of fiber per serving. Load your pasta salad with veggies to further increase fiber content. Good options include broccoli, mushrooms, tomatoes and artichokes, which provide 7 grams of fiber for ½ cup. Top with some feta cheese for a flavorful protein boost, and drizzle with your favorite dressing or vinaigrette.
Better Sandwich
A sandwich can be a high fiber filling lunch if you start out with whole grain bread that contains 5 grams of fiber per slice. Add a small amount of light mayo, lettuce, tomatoes, avocado and sliced turkey breast for a delicious turkey sandwich. Eat with a small apple for even more fiber. A small apple provides 5 grams of protein, and half a cup of avocado provides you with another 5 grams of fiber. Just watch your portions with avocados because they are high in calories and fat.
Enjoy the crunch
Vegetables are a great source of fiber, but salads don't have to be boring. Jazz up a mediocre salad by starting with spinach leaves or baby greens; add beets, tomatoes, cucumber, broccoli, artichoke hearts, radishes, carrots, green beans, or any vegetables you enjoy. Add additional fiber with lentils, a half a cup provides you with 8 grams of fiber. To complete the meal enjoy with a single serve cottage cheese and a few whole-wheat crackers.
A high fiber diet continues to receive accolades for reducing the risk of chronic disease. Incorporate one of the provided high fiber meals into your diet today to start reaping the benefits.
For more tips on healthy eating, drinking and losing weight, and for delicious high fiber meal plans and recipes, check out my latest book, The Miracle Carb Diet: Make Calories and Fat Disappear – with Fiber!