Dad struck by Guillain-Barré syndrome unable to speak, move 3 months later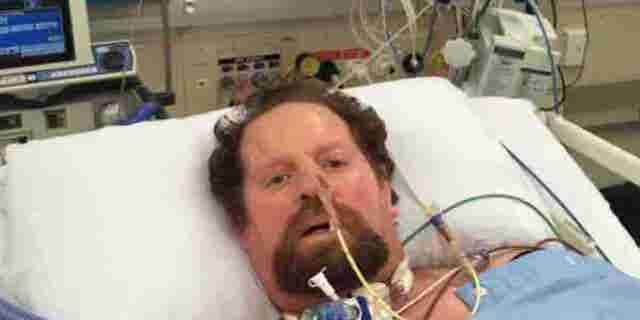 NEWYou can now listen to Fox News articles!
An Australian father of three has been left fighting for his life after contracting Guillain-Barré syndrome while visiting Bali, Indonesia, and is now unable to move or breathe on his own.
Craig Hardy, who at first thought he was suffering from "Bali belly," a condition commonly associated with travel-related digestive issues, has been hospitalized since June, news.com.au reported.
The 52-year-old, whose family nickname is "Rock," drove himself to Royal Perth Hospital when he realized his symptoms were intensifying. His sister-in-law told the news outlet that during the 15-minute drive Hardy became paralyzed.
"They took him straight into emergency and by that night he was paralyzed from head to toe and in an induced coma," Deborah Hardy told news.co.au.
GIRL, 4, CONTRACTS LIFE-THREATENING INFECTION AFTER TRYING ON SHOES WITHOUT SOCKS, MOM CLAIMS
Ten weeks after the family was told Hardy has Guillain-Barré, they said he can slightly move his head but there's no expression on his face and he can't speak. He uses a letter board and blinking to spell out sentences.
"He's completely cognizant and awake lying there but he's not able to move," Deborah told news.com.au. "His mind is 100 percent perfect but he's trapped; it's like being buried alive. Every now and again he gets the feeling he is drowning because of the fluid on his lungs, which they have to pump out, but he can't say anything."
According to the Mayo Clinic, Guillain-Barré syndrome is a rare disorder that causes the body's immune system to attack a patient's nerves. Symptoms typically begin with tingling and weakness in the feet and legs before spreading upward. It can progress to unsteady gait, severe pain, difficulty with bowel function or bladder control and difficulty breathing among other issues. While it is not known what causes Guillain-Barré, it is often preceded by an infectious illness.
NEBRASKA MAN CLAIMS MISSED WEST NILE DIAGNOSIS LEFT HIM PARALYZED
According to Mayo Clinic, muscle weakness can progress into paralysis, and while there is no cure, several treatments can help reduce symptoms and duration of the illness. Most people recover, while other patients may experience lingering effects.
A post on the family's GoFundMe page said doctors predict that it may take Hardy up to two years to recover from his illness.
"He's a hard-working dedicated family man," Deborah told news.com.au of her brother-in-law. "He'd do anything for anyone, he's very funny, a strong man, hence his nickname Rock, but a heart of gold."