Court grants additional time on life support for California toddler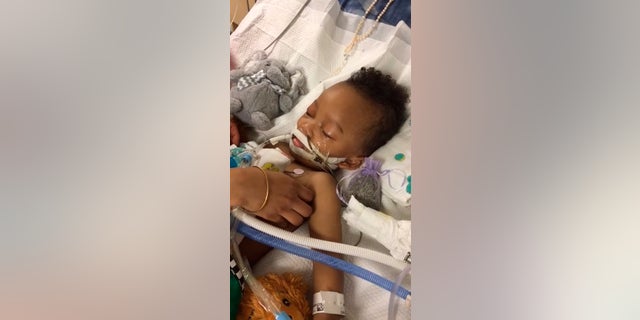 A federal appeals court Friday granted a Northern California woman's request to keep her toddler who has been declared brain dead on life support past the end of the day.
The 9th U.S. Circuit Court of Appeals issued an order requiring Kaiser Permanente Medical Center in Roseville to keep 2-year-old Israel Stinson on life support while it considers his mother's appeal. A lower court had extended life support only to the end of the business day Friday.
Israel's mother, Jonee Fonseca, says she needs time to find another facility for Israel. Kaiser Permanente attorneys say Israel's condition will not improve, and the hospital has provided Israel's parents with a reasonable amount of time to find another facility.
The 9th Circuit did not set a new cutoff date on life support in its order, but set up a schedule for additional paperwork from Fonseca and Kaiser through Wednesday.
Fonseca sought a court order that Kaiser Permanente keep Israel on life support to give her ample time to find another facility for the boy. U.S. District Court Judge Kimberly Mueller rejected her request in a May 13 ruling, but she gave Fonseca until the end of the business day on Friday to appeal.
Fonseca is suing Kaiser Permanente, saying she believes Israel is still alive. Fonseca has said Israel moved his body in response to her touch and voice even after he was declared brain dead.
"Plaintiffs are Christians with firm religious beliefs that as long as the heart is beating, Israel is alive," Fonseca's attorney, Kevin Snider, said in court documents. Snider is with the Pacific Justice Institute, a conservative nonprofit legal defense group.
Kaiser Permanente attorneys said Israel's condition would not improve because he suffered "permanent, irreversible and total cessation of all brain functions" and futile care would deprive him of the "dignity of death." The movements Fonseca experienced were spinal reflexes that did not indicate his brain was functioning, Michael Myette, Israel's doctor at Kaiser Permanente, said in a court declaration.
The fight over life support for Israel is similar to the battle over Jahi McMath -- a 13-year-old girl who underwent a tonsillectomy and tissue removal at Children's Hospital in Oakland, California, to treat sleep apnea. The girl suffered massive bleeding, had a heart attack and was declared brain dead in 2013. But her family fought to keep her on life support and moved her to New Jersey, which requires medical treatment of patients like McMath who are declared dead but show minimal brain function.