Couple reschedules wedding date so groom's dying mother can attend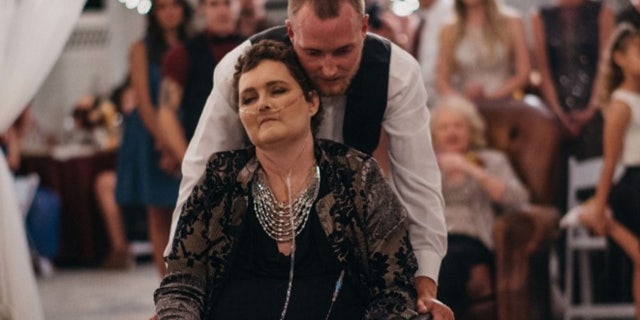 NEWYou can now listen to Fox News articles!
A Florida couple moved their wedding date up by a year so that the groom's mother, who was diagnosed with stage 3 breast cancer, could fulfill her wish of seeing her son get married.
Tyler and Amanda Crosby were married Nov. 14 at Cross Creek Ranch in Florida, with Tyler's mother, Dot, present.
Doctors had told Dot a few months ago that she likely had only weeks left to live.
"It's hard. You're lying in bed, not knowing if you're going to get up in the morning," Dot told Bay News 9. Once the couple moved up the date, Dot set it as a goal.
"I keep trying to have goals because the longer there's a goal out there, I've got to get to it, it's helped me get to my next step," Dot told Bay News 9.
She arrived via ambulance and sat in a large leather chair for the ceremony. Although she was not supposed to be on her feet, she jumped up when bride Amanda walked down the aisle.
"She was beyond ecstatic," Terry told ABC News. Dot and Tyler shared a special dance that was recorded and has since been shared more than 3,000 times since being posted on Facebook last week.
"It means a lot to me because I want Dot's legacy to live on," Terry told Bay News 9. "She's been a very important part of my life and a part of many people's lives."
The family has also had "dots" tattooed on their hands in her honor.