College student discovers sports injury is actually rare cancer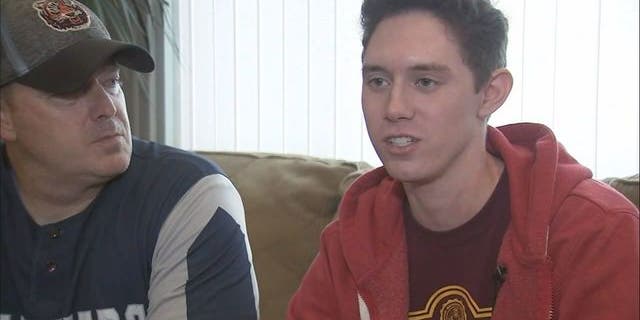 A Michigan college student who thought the pain in his pelvis area was a sports-related injury was gutted to learn that it was actually a symptom of a rare cancer.
Noah Holloway, 18, had just wrapped his first year at Central Michigan University when he was diagnosed with Ewing sarcoma, Fox 2 Detroit reported.
"You just hear the 'C word' and it hits you like a truck," Holloway said. "Up to that point, everyone was going 'There's a very slight chance of cancer. There's almost no chance; I doubt it's cancer.'"
5-YEAR-OLD BOY HELPS WRITE HIS OWN OBITUARY BEFORE TRAGIC CANCER DEATH: 'SEE YA LATER, SUCKAS!'
Tests revealed a 9-centimeter wide tumor in Holloway's pelvis area. His dad, Thomas Holloway, said the diagnosis has turned the family's world upside down.
"It's been tough," the Clinton Township Police Detective told Fox 2 Detroit. "I've been really impressed with him. He's been strong, I've learned a lot from him."
About 200 children and young adults are diagnosed with Ewing sarcoma each year in the U.S., according to St. Jude Children's Research Hospital. It typically occurs in patients between 10 and 20 years old, with a higher incidence in boys.
Holloway said he'll be forced to take one year off of school for treatment, and will have to give up his dream of studying abroad. He started chemotherapy last week and said the experience has been "terrible."
JOHNSON & JOHNSON ORDERED TO PAY NEARLY $4.7B TO 22 PLAINTIFFS IN TALCUM POWDER LAWSUIT

The family has been surprised by the amount of support they've received from friends, family and the police department. They set up a GoFundMe to help offset their son's medical costs so that he can focus on treatment.
"I'm just going to be focused on fighting it," he told the news outlet.