CDC: 9 out of 10 Americans consume too much sodium each day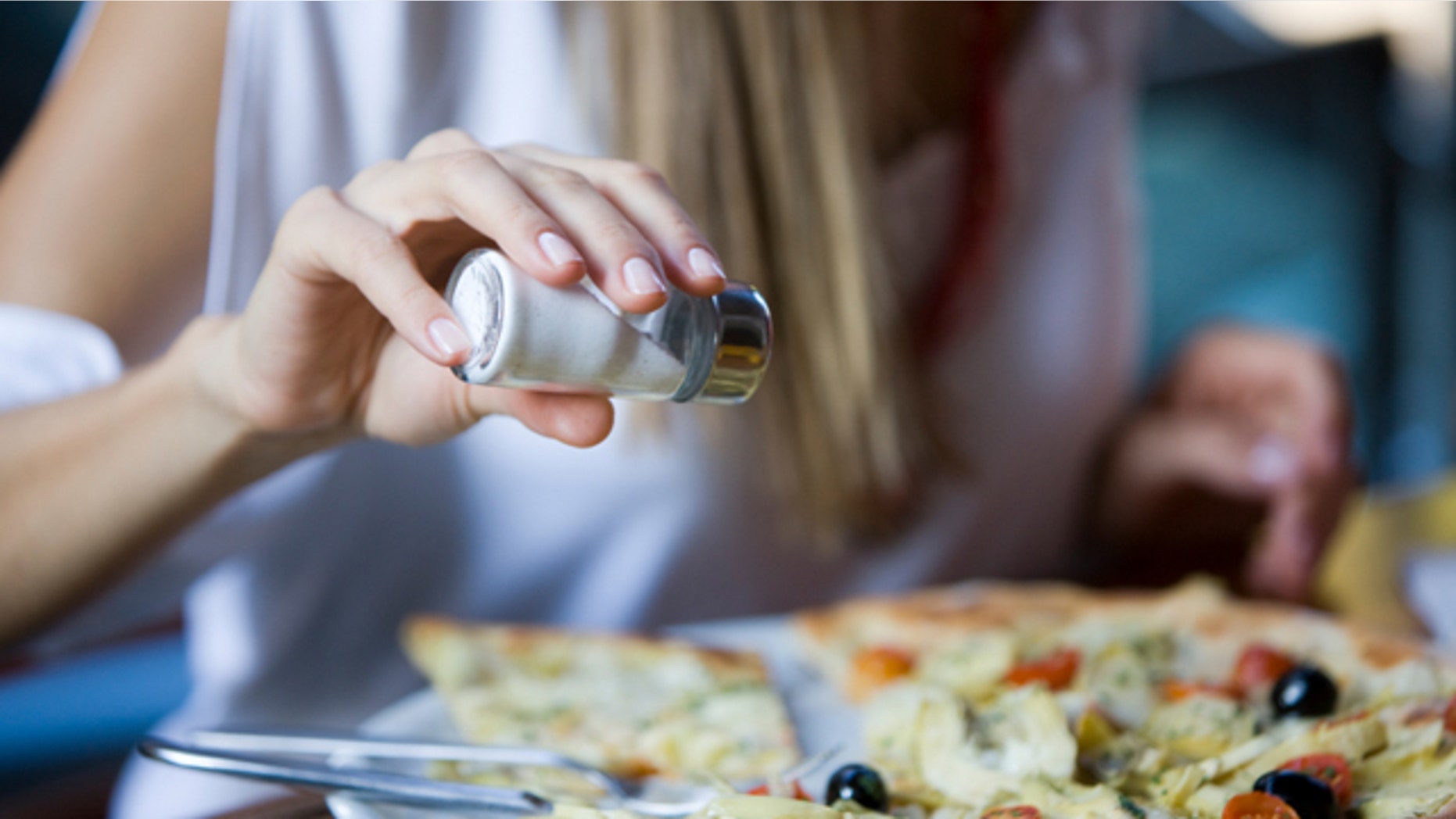 Think that you have your sodium intake under control?
You may want to think again.
A new report from the Centers for Disease Control and Prevention revealed Tuesday that a whopping 90 percent of all Americans consume much more than the daily recommended amount of sodium.
Currently, the U.S. Dietary Guidelines recommends the average individual should consume a limit of 2,300 milligrams per day.  But the average person's actual sodium consumption per day – 3,300 milligrams, according to the report.  And that doesn't include salt added at the table.
The Vital Signs report - the CDC's monthly report of the latest health data -found that a meager 10 types of foods are to blame for more than 40 percent of people's sodium consumption.  And most of these foods are everyday items found in restaurants or the grocery store.
The most common sources of sodium resemble a typical lunch menu.  Breads and rolls, luncheon meat, pizza, soups, and cheeseburgers top the list, along with cheese, pasta and meat dishes. Fatty snacks such as potato chips, pretzels and popcorn were also responsible for a large portion of people's sodium per day.
According to the report, it's important to monitor the amount of sodium you consume, because a high-sodium diet can put you at risk for many health disorders.
"Too much sodium raises blood pressure, which is a major risk factor for heart disease and stroke," Dr. Thomas Frieden, the director of the CDC, said in a news release.  "These diseases kill more than 800,000 Americans each year and contribute an estimated $273 billion in health care costs."
The root of the problem lies in the relationship between a person's sodium intake and the functionality of their kidneys.
"A high-sodium diet makes it more difficult for you to lose weight," said Dr. Manny Alvarez, senior managing health editor of FoxNews.com.  "As we get older, a high-sodium diet is less and less tolerated because our kidneys begin to slow down as we age, and the kidneys are the organs responsible for the removal of excess sodium.  That is why we tend to link a high-sodium diet with high blood pressure."
Alvarez also warned that pregnant women should take even greater heed to this research, because a rich-sodium diet puts them at more risk for health problems than others.
"In pregnancy particularly, a high-sodium diet is problematic because the kidneys are already working overtime to deal with the physiologic changes in the body," Alvarez  said.  "That's why pregnant women in particular should pay attention to the salt they consume."
Another finding from the report showed that reducing sodium content of the leading 10 sodium-rich foods would lower total dietary sodium by more than 10 percent.  This would be enough to potentially help in preventing an estimated 28,000 deaths per year.
But reducing a person's sodium intake can be difficult given that sodium is found in so many common foods.
"The processed food industry in this country is enormous," Alvarez said.  "And most of the processed foods that get consumed in the U.S. – whether you're talking fast foods or the frozen food industry - rely on high sodium content for their attractive taste.  This type of sodium, in my opinion, is not apparent to the consumer and ultimately has led us to look at these statistics to say, 'Yes, we are a salt-rich nation.'"
However, the CDC is optimistic that changes can be made.  The center encouraged people to be smart about the foods they eat by turning to more fruits and vegetables without sauce and by consuming fewer processed foods.  The CDC has also supported recommendations for food manufacturers and restaurants to reduce the sodium in their foods.

"We're encouraged that some food manufacturers are already taking steps to reduce sodium," Frieden said. "Kraft Foods has committed to an average 10 percent reduction of sodium in their products over a 2-year period, and dozens of companies have joined a national initiative to reduce sodium.  The leading supplier of cheese for pizza, Leprino Foods, is actively working on providing customers and consumers with healthier options."
 
Frieden added, "We are confident that more manufacturers will do the same."