Boston Marathon doctor who treated victims recounts horrific scene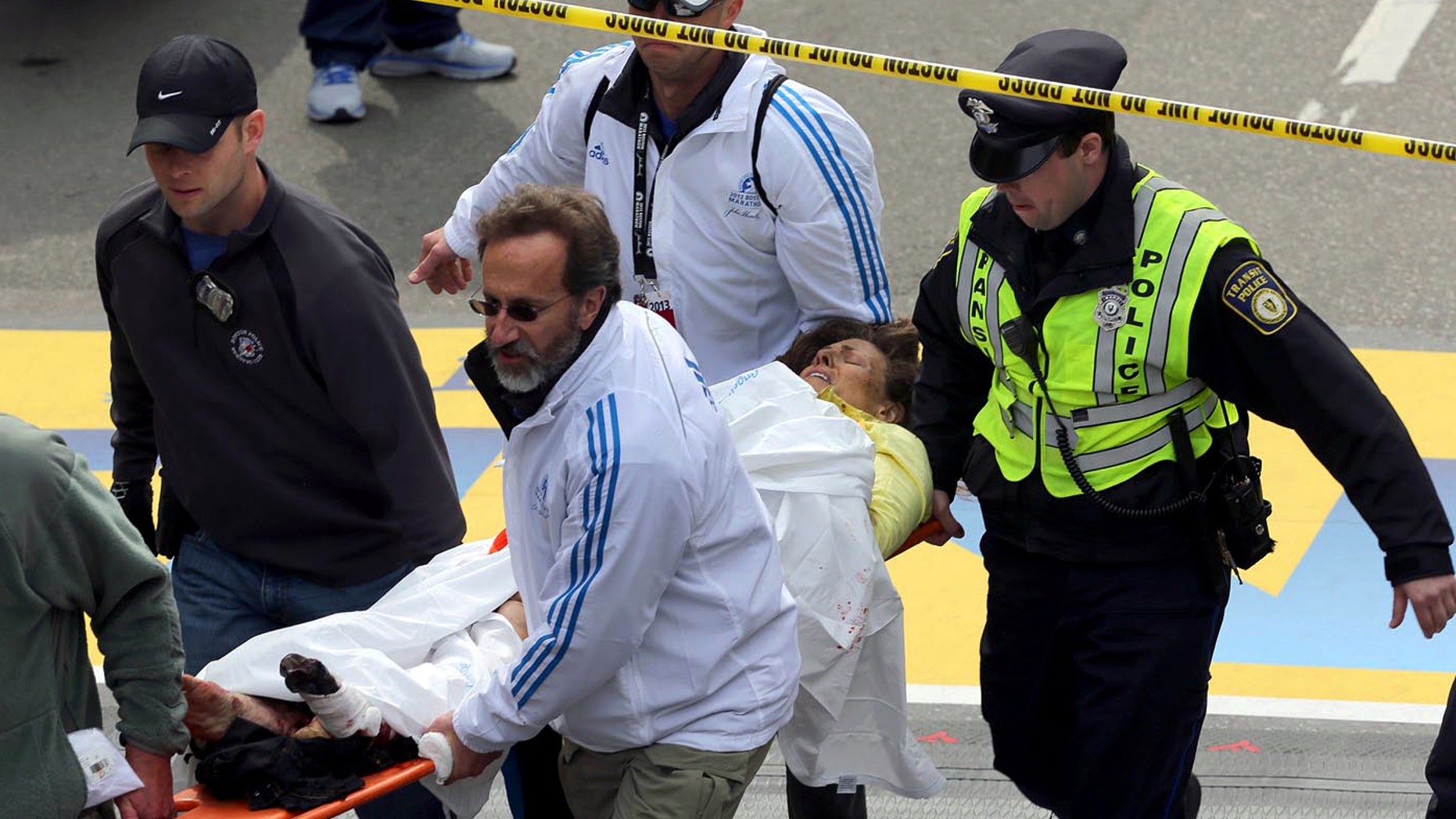 Dr. Martin Levine was in front of the A medical tent on Boylston Street Monday afternoon.  It was his 19th year working at the Boston Marathon, and he was doing triage on runners needing medical assistance just a block away from the race's finish line.
When he heard the first explosion, he didn't have time to think.  He yelled into the tent there would be casualties and then he immediately ran towards the rising plume of smoke.
What he saw when he arrived on the scene was pure devastation.
"It was about two dozen people lying on the sidewalk," Levine, a board-certified family physician with private practices in Bayonne and Jersey City, N.J., told FoxNews.com.  "As a doctor, I look for abnormal symmetry, and I noticed immediately that people were lying in heaps, their legs either blown off, severely wounded or deformed completely."
Levine said people's faces showcased a complete state of shock.  One woman, who had sustained severe injuries to the back of her legs, was urging medical personnel to evacuate her husband, who had lost his leg around the knee.  Two women Levine believed to be friends were laying in a heap together, their legs extremely deformed, as they desperately tried to get loved ones on the phone.
Realizing that many of these people were in danger of extreme blood loss, Levine was quick to use anything he could find as a tourniquet.
"We asked people for their belts," Levine said.  "We took off the lanyards we used for credentials and tied them around people's legs."
Over the next half hour, Levine and other doctors, physical therapists, podiatrists and volunteers rushed wounded marathon runners and spectators to the emergency medical tents, assessing the kind of treatment they needed.  Those with the most acute injuries were loaded into ambulances, while nurses immediately administered IVs to others in order to start much-needed hydration.
It is still unclear for Levine just how long he spent out there tending to the wounded.  For him, the time went by in what seemed like an instant.
"As physicians, you're 100 percent focused on the patients," Levine said. "There's nothing around you; you can't even acknowledge it.  When I saw video last night, I had no idea there were that many people around me, as I saw myself working there.  I did not know that – I never looked."
For the past 13 years, Levine has acted as the Elite Athlete Recovery Area Physician for the Boston Marathon, treating the first racers to cross the marathon finish line.  Not a stranger to attending and running marathons, Levine has also worked the New York City marathon for the past 20 years, as well as the New Jersey Marathon and many more.
When preparing for the events of a typical marathon, Levine said being prepared is paramount.  It was the staff's readiness and attentiveness, he said, that helped to save countless lives on Monday.
"We were ready for people who have a sudden hypernatremia or cardio event that can be lethal," Levine said.  "… We're prepared for anything.  The idea here is when you have people that are ill from running, typically it's not acute medicine, but when you have severely injured people, you need a lot of people to take care of them.   We were ready because of that preparation."
Levine credits Chris Troyanos, long-time medical coordinator for the Boston Marathon, along with Dr. Pierre d'Hemecourt and Dr. Sophia Dyer, co-medical directors for the Boston Athletic Association, for bringing together the hundreds of nurses, physical therapists, physicians and medical volunteers that day.
Even before the marathon had begun, medical personnel underwent an hour-long lecture about what they could expect and how to treat individuals suffering from a severe medical episode. It was thanks to the extensive planning of Troyanos, D'hemecourt and Dyer that so many people were treated so quickly, Levine said.
"I knew because of the preparation before this, I didn't have to worry about what the guy was doing next to me," Levine said. "I could concentrate on my patient in front of me."
The true impact of what had happened didn't affect Levine until after the chaos had subsided and he left the plaza to walk to his friends' house.  It was then the day's events could finally sink in.
"It was a three-mile walk," Levine said, "and everything around me that was loud or slightly off bothered me a lot more – the sirens going on and off, people yelling and screaming.  That instantaneous moment you can't control was just pretty horrendous."
For him, the experience felt like being in a war zone, giving Levine a newfound appreciation for what it must be like to fight oversees and experience tragedies like this year-round.
"With these kinds of horrific things that happen, you say to yourself, 'I went through it for half an hour, could have been ten minutes, I don't know,'" Levine said.  "But when we send people to war... We don't say thank you for your service enough."