After accident with a fork lift, 1-legged man thrives with prosthetic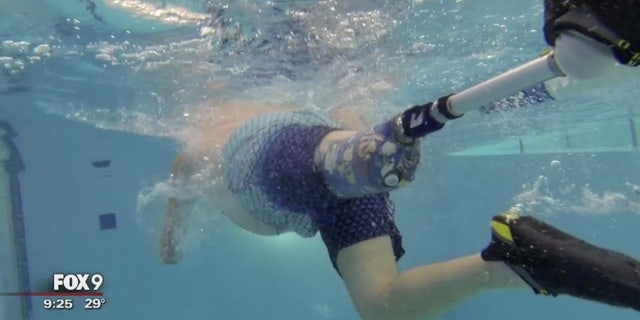 NEWYou can now listen to Fox News articles!
When Neil Hemen had the chance to go on a cruise this winter, the Stillwater, Minnesota, man had no idea it'd change his life. Hemen, who lost his left leg in May 2006 after a fork lift accident six years earlier, was introduced to a waterproof, lightweight prosthetic that's given him the freedom to swim, snorkel and stand up in the shower.
"It's exciting … it's more than I can ever say," Hemen told KMSP after a few laps in the pool at Courage Kenney Rehabilitation Institute.
Following the accident, Hemen struggled to find the will to keep going.
"I was told, 'You just got to stop and find another chapter,' and with posttraumatic stress, it's hard to find that chapter," Hemen told the news channel.
His medical team gave Hemen the new prosthetic— an option they hadn't previously discussed— especially for the Caribbean cruise. On the trip, he was able to snorkel, swim with sting rays, and hang around the pool. But the biggest benefit was back home.
"Just for me to be able to go into the shower or walk in the pool without going in a wheelchair is the best thing that ever happened," Hemen told KMSP. "There's no words to even explain it."