524 sickened by Salmonella outbreak linked with Foster Farms chicken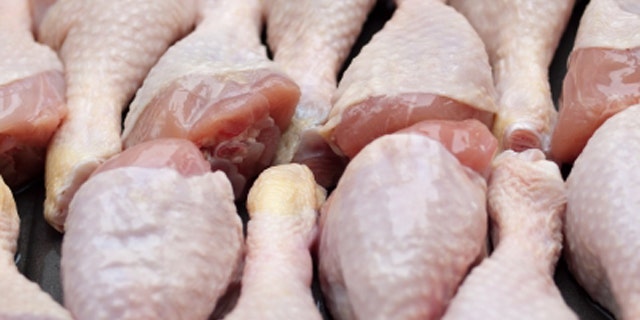 A total of 524 people in the United States have become ill with Salmonella Heidelberg likely related to Foster Farms raw chicken – in an outbreak that has spanned more than one year.
According to the latest update from the Centers for Disease Control and Prevention (CDC), 43 new cases have been reported since March 3, and it is possible that more will occur in the coming weeks. People who became sick after March 8 may not have reported their cases yet, as it typically takes between two to four weeks for a person to report their illness.
So far, cases associated with the outbreak have been reported in 25 states and Puerto Rico, with most of the illness (76 percent) occurring in California. Approximately 37 percent of patients have been hospitalized, but no deaths have been reported.
The outbreak has been linked with Foster Farms brand chicken, after the circulating strain of Salmonella Heidelberg was traced back to two Foster Farms slaughter establishments in July. In a statement on Wednesday, Foster Farms said it is continuing to work on reducing Salmonella contamination at their facilities:
"Foster Farms is committed to leadership in food safety and producing the safest chicken on the West Coast. Since October 2013, Foster Farms has developed a multiple-hurdle approach to reduce or eliminate Salmonella at each stage of production – from screening breeder flocks before entering the Foster Farms system, to farms where the birds are raised, to the plants where the chicken is processed as a whole bird and when it is cut into parts. As a result, the company has steadily reduced the prevalence of Salmonella at the parts level toward a goal of less than 10 percent – well below the USDA-measured industry benchmark of 25 percent."
The CDC noted that several strains of Salmonella Heidelberg are resistant to many common antibiotics, potentially increasing the risk of hospitalization for infected individuals. The CDC advises consumers to practice proper food safety tips – such as washing your hands and food thoroughly, separating meat from other foods in the refrigerator, and cooking meat to a safe minimum temperature.