3-month-old South Dakota twins battling same type of cancer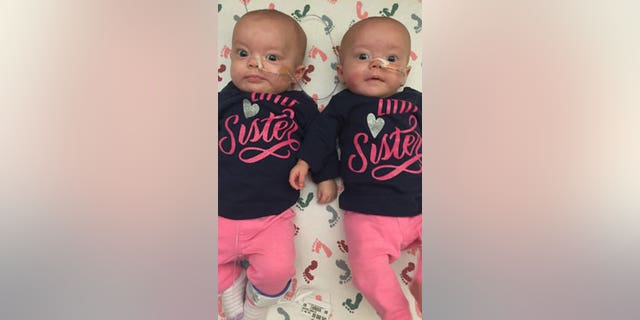 Three-month-old Kenedi and Kendal Breyfogle share the same eye color, the same little noses, ears and mouths, and, in many of their photos, the same outfits. But the Pierre, South Dakota, sisters also share another, rare feature for their age: a diagnosis of acute myeloid leukemia (AML), a cancer that usually occurs in older adults.
WISH-TV, in Indianapolis, reported that the identical twins were born early at 33 weeks on May Day and spent 30 days in the NICU. When their parents, Aaron and Abby Breyfogle, began noticing bruises on their baby girls two months later, they didn't suspect the marks were serious.
"We thought they might be bug bites," Aaron told the news station.
But when doctors conducted a skin biopsy, they detected the cancer. Today, the twins are undergoing chemotherapy at the Mayo Clinic in Rochester, Minnesota, while their parents remain hopeful.
"It's devastating news," Aaron told WISH-TV. " You never expect your kids to be diagnosed before yourself or especially at this age. We're just hoping to fight through this right now, and get to a place where we can enjoy quality time together outside of the hospital again."
According to the American Cancer Society, various factors can increase the risk of developing AML, including exposure to certain chemicals and radiation. Some blood disorders, genetic syndromes and family history may also increase an individual's chances of developing the cancer.
Learn more about the Breyfogles' story on their GoFundMe page.