Woman breaks ice cream eating world record at Indiana State Fair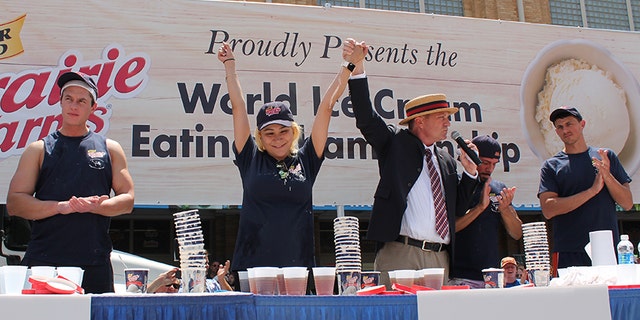 Ever get a brain freeze from eating ice cream too quickly? Now imagine eating 16.5 pints of ice cream in six minutes.
That's exactly what Miki Sudo did at the ice cream eating competition at the Indiana State Fair on Sunday.
THE MOST DELICIOUS DEEP-FRIED TREATS FROM THIS YEAR'S STATE FAIRS
Sudo won a $2,000 prize for the Prairie Farms World Ice Cream Eating Championship, and is now the new world record holder, according to Fox 59 news.
The second place winner ate a mere 15 pints of ice cream in six minutes, which was the previous record before Sudo.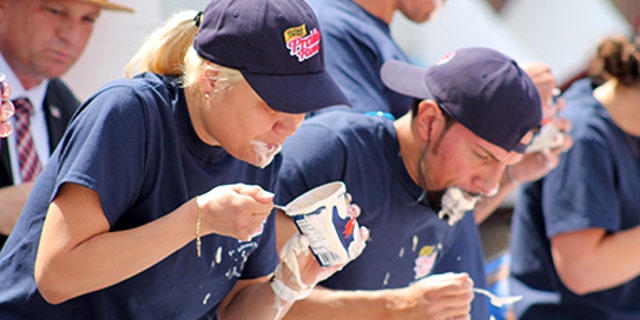 In order to claim the title, Sudo forced herself to eat 2.75 pints of ice cream per minute, which is roughly half a cup every five and a half seconds, according to Thrillist. While the ice cream was plain vanilla, she consumed around 8,580 calories based on the amount in a pint of the Prairie Fields' brand used in the contest.
FOLLOW US ON FACEBOOK FOR MORE FOX LIFESTYLE NEWS
This isn't the first time Sudo has taken home the title in an eating competition. She's a top-ranked competitive eater, and just last month, she won the women's division of the Fourth of July Nathan's Hot Dog Eating Competition for the fourth year in a row, putting away 41 dogs and buns in 10 minutes.