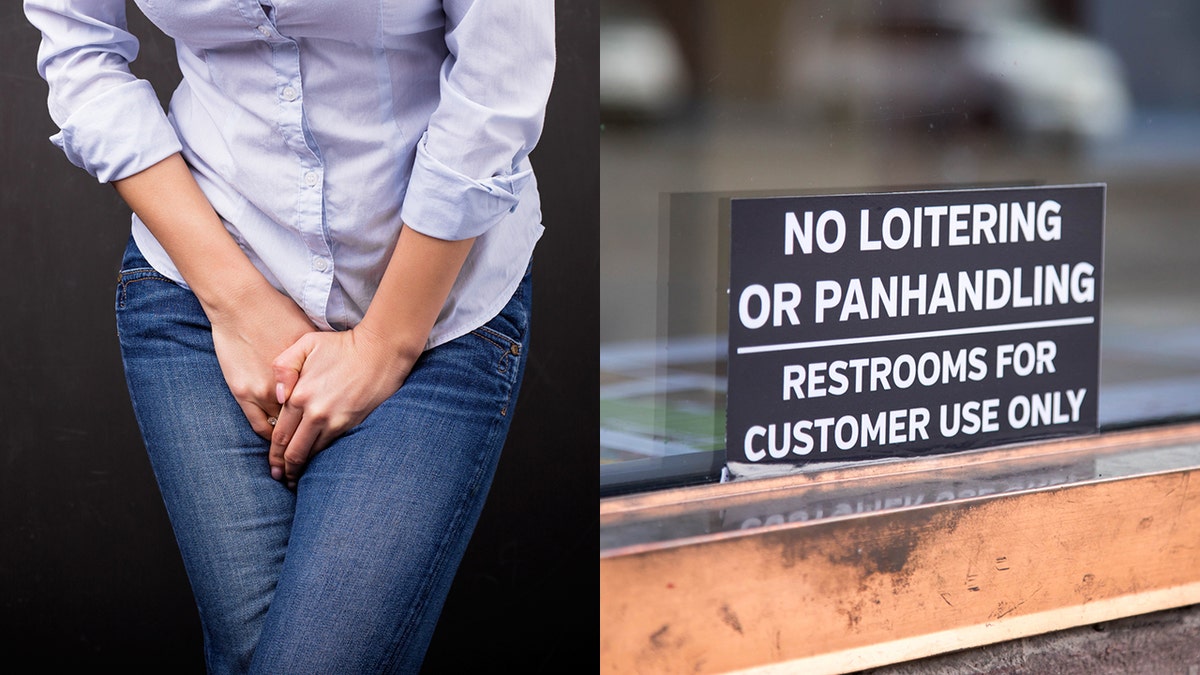 If you can't sell enough food and booze, try marketing the toilet.
Slammed by soaring costs for food, labor and rent, New York's bars, restaurants and nightclubs are using a growing crop of third-party apps and services to rent out their dining rooms, coat-check areas and even their bathrooms to make extra cash.
Luluapp — a mobile app that, for a fee, promises to direct tourists and other assorted weak bladders to the nearest available bathroom — says it has already signed up more than 100 New York restaurants and bars ahead of its summer launch.
WOMAN USES $400 HAIR DRYER TO MAKE A 'ROASTED' CHICKEN
"Instead of paying a lot of money for a Facebook or Yelp ad, we let restaurants promote a free drink or discount to our users" after they use the facilities, Luluapp CEO Paolo Cogliati told The Post.
Luluapp generates a digital "bathroom pass" charging anywhere from 99 cents to duck into a pizza dive to $5 for a swanky bathroom that offers lotions, super-private stalls and high-end hand towels. The restaurants get 65 percent of the fee.
"Restaurants do want to hear our pitch because it's just so weird," Cogliati says.
He declined to name any of the restaurants he's working with, but Burak Karacam, owner of the swanky Pera Mediterranean Brasserie near Grande Central Terminal, said he got pitched by Luluapp and passed.
Instead, he decided to work with Bagbnb, a Rome-based luggage storage startup that allows travelers to store their bags at bars and restaurants in 60 cities worldwide, including 26 venues in the Big Apple.
Bagbnb, which splits its $6, per-bag fee with restaurants, has also expanded by offering commissions to tour operators, Airbnb hosts and hotels for suggesting its services to their lodgers.
"It can be a little hectic in the morning when you have 10 people lined up ready to drop off their bags," said Chelsea Feldcher, a manager at Pennsylvania 6, a restaurant near Penn Station that started using Bagbnb a few months go. "But obviously any extra revenue is great for us and we are introducing new people to the restaurant."
PIZZA WITH 111 TYPES OF CHEESE BREAKS WORLD RECORD
Pennsylvania 6 pulls in about $2,000 a month from storing people's bags for a few hours or for the day, according to Feldcher. About 25 percent of those customers end up grabbing a drink or meal at the eatery before they catch their train, she says.
As restaurants and bars face a slew of rising costs, including hefty minimum wage hikes, seemingly oddball strategies like these increasingly make sense, said Andrew Rigie, executive director of NYC Hospitality Alliance.
"It's becoming more difficult to run a profitable restaurant in the city," Rigie said, "Opening up new streams of revenue is extremely important."
KettleSpace, a six-month-old startup, has inked about half a dozen deals with restaurants and bars to open their dining rooms to freelancers and entrepreneurs during the off hours. It charges its laptop-toting clientele $25 for 10 hours to $99 a month for unlimited access to use the restaurant spaces, where free coffee, snacks and meals are sometimes part of the deal. By comparison, WeWork's least expensive plan in New York costs $220 a month.
"KettleSpace is the cheapest alternative that I found," said Bradley Orego, a graphic designer and professional dancer who was working at P.S. Kitchen, a restaurant off Times Square at 248 W. 48th St., on a recent afternoon.
For P.S. Kitchen, KettleSpace helps fill space that would otherwise be empty during the day, said general manager Timothy Carberry. "The intent is that maybe some of the KettleSpace people will stay for Happy Hour or order lunch from us," he added.
FOLLOW US ON FACEBOOK FOR MORE FOD LIFESTYLE NEWS
"It's newfound money for us," said nightclub owner Ravi Patel, whose Hotel Chantelle recently opened up its rooftop lounge — and its retractable roof — to KettleSpace workers.
"This has the potential to reach $3,000 to $5,000 a week for us, which could slash my rent by up to 30 percent," Patel said.