Waitress' note to a diner after she picked up elderly couple's tab goes viral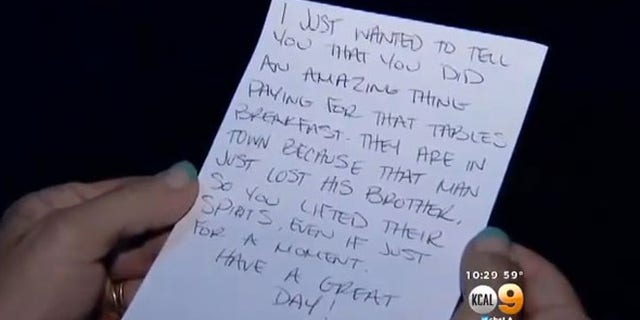 Stories of restaurant kindness touch our hearts --and others. A note written by a waitress to a restaurant patron who paid for an elderly couple's breakfast has now gone viral.
Kirsten Kinzle was dining at Mimi's Café in Victorville, Calif. when she noticed two other diners who looked like they enjoying their time together.
"You just see people sometimes that just look like a great couple and they really loved each other," Kinzle told KCAL9 Los Angeles.
Kinzle thought her loud party might have been disrupting the couple's quiet breakfast so she sprung for the $30 tab. Server Stephanie Miller was touched by the gesture and wanted to let Kinzle know that the elderly man had recently lost his brother, making the treat all the more special.
In a note she wrote: "I just wanted to tell you that you did an amazing thing paying for that table's breakfast. They are in town because that man just lost his brother. So you lifted their spirits, even if just for a moment."
Miller also lost someone special a year to the day, which is why she wrote the note.
"I knew that if I tried to tell her the story myself I would probably start crying like a baby," Miller told KCAL9.
After receiving Miller's note, Kinzle was immediately overcome. "I instantly started crying," Kinzle said. "I just hope it made them for just a moment happy with that amount of sadness."
The story has gone viral and has been shared over 1,500 times on Facebook pages.
Just another small example of how paying it forward can really make a big difference.