Woman says she found lizard head in kale salad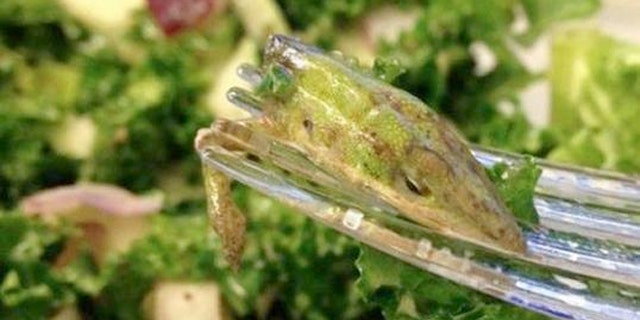 A woman in New York reportedly found what looks like the head of a lizard in her kale salad.
According to the New York Post, theatre agent Robin Sandusky said she ordered a $6 salad from Manhattan deli Guy & Gallard and discovered the reptile head after she went back to her office to eat.
"It was the craziest thing," she said. "After a few bites, I look down at my fork, and think, 'Oh, is that a piece of asparagus?'And then I saw that it had eyes, and an arm," she told the Post.
Sandusky reportedly sent it back to the deli, which promptly gave her a refund.
"Honestly, I've never heard of something like this," a deli manager said.
"I've never even seen a lizard in New York."
A store manager told the NY Daily News that the lizard head was not in the returned salad.