The absolute best pizzas in America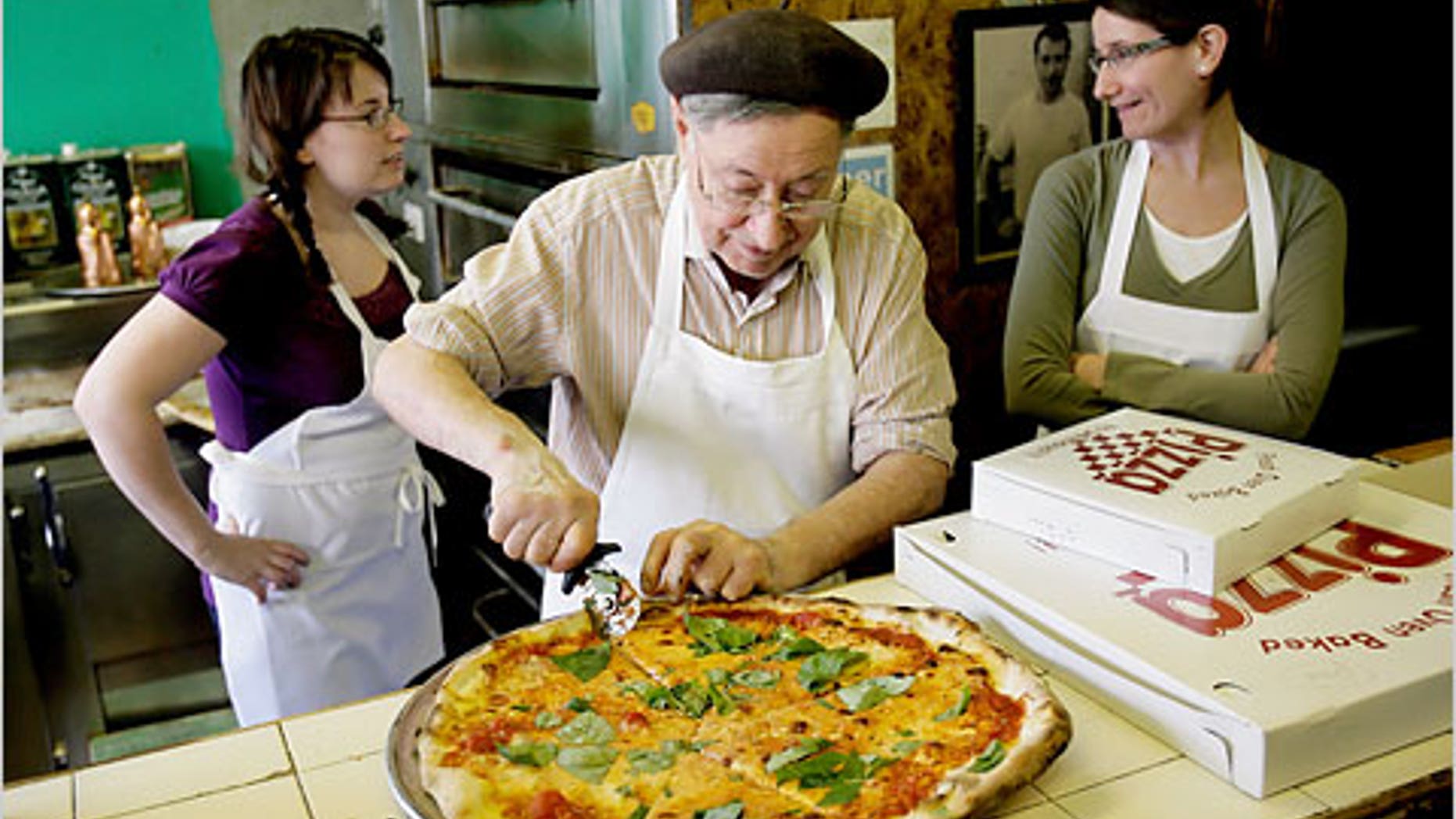 For the past four years, The Daily Meal has ranked America's best pizzas, and every year the same pizzeria — the legendary Frank Pepe's in New Haven, Connecticut — has claimed the title.
While technically it might be correct to say that the emperor has no cheese (Pepe's signature pizza is a clam pie with "no muzz" [mozzarella]), there's nothing wrong at all with the reigning champ. Its quality hasn't declined; the lines to get in are just as long as ever. But this year, it's been upset by another legendary pizzeria, one New York pizza fanatics will be happy to know brings the crown to where they've been saying for years that it rightly belongs.
If you're as passionate about pizza as we are, you know our bona fides and you know the drill. We've been at this for a while. We've obsessively cast as wide a net as possible across the country to search for the best pizzas. All year, once each annual list appears, we research new spots ourselves and follow up on the discoveries of others wherever they are across the country. We tap friends for recommendations, pore over reader tips, argue, seek out experts to help us rank responsibly — and eat as much pizza as we can.
We know that no list is perfect, least of all one involving a subject people feel as strongly about as pizza. Unlike many arbitrary lists, though — rankings diversified for the purpose of geographical engagement, "expert" listicles chosen by a handful of New York's food writers — these rankings were approached methodically and comprehensively, and bring a great deal of pizza expertise to bear. (Last year, we even got "America's foremost authority on pizzaology," Blondie's Dagwood Bumstead, to weigh in.)
We start by defining the perfect pie. What are the essentials?Considering the varied pizza styles (Neapolitan, Sicilian, New York, Connecticut, California, Detroit, St. Louis, bar pie, deep-dish, Grandma…we'll stop ourselves there), that's a loaded question. Suffice it to say, no matter your pizza denomination, we believe the following qualities are basic to the platonic pie: a nuanced sauce, neither too sweet nor salty (assuming that it has sauce); good-quality, well-distributed cheese (assuming that it has cheese); good-quality and sensibly combined toppings; a flavorful, savory crust; and perhaps most important, other than the overall quality of the ingredients, a judicious, well-balanced, and pleasing ratio of sauce, cheese, toppings, and crust that maintains a structural integrity no matter the style.
More from The Daily Meal
101 Best Pizzas in America for 2015
101 Best Pizzas in America for 2014
101 Best Pizzas in America for 2013
35 Best Pizzas in America for 2012
New York's Best Pizza in Every Borough
From defining the perfect pizza we went big, considering more than 800 spots in every corner of the country — slightly more than last year. How did we narrow this number down to just 101? To begin with, we ate at as many pizzerias as possible ourselves. This editor has personally visited 50 places that made the list this year. The Daily Meal's in-house pizza experts — including eight-time James Beard Award winner and Daily Meal editorial director Colman Andrews and the site's senior eat/dine editor Dan Myers, along with our city editors, Daily Meal Council experts, and Culinary Content Network bloggers — pitched in.
1. Di Fara, Brooklyn-- Classic Round Pie: mozzarella, Parmesan, plum tomato sauce, basil, olive oil, sausage, peppers, mushroom, onion
Domenico DeMarco is a local celebrity, having owned and operated Di Fara since 1964. Dom cooks both New York- and Sicilian-style pizza Tuesday through Saturday (noon to 8 p.m., and on Sunday from 1 p.m. to 8 p.m.) for hungry New Yorkers and tourists willing to wait in long lines and brave the free-for-all that is the Di Fara counter experience. Yes, you're better off getting a whole pie than shelling out for the $5 slice. Yes, it's a trek, and sure, Dom goes through periods when the underside of the pizza can tend toward overdone, but when he's on, Di Fara can make a very strong case for being America's best pizza.
If you want to understand why before visiting, watch the great video about Di Fara called "The Best Thing I Ever Done." You can't go wrong with the classic round or square cheese pie (topped with oil-marinated hot peppers, which you can ladle on at the counter if you elbow in), but the menu's signature is the Di Fara Classic Pie: mozzarella, Parmigiano-Reggiano, plum tomato sauce, basil, sausage, peppers, mushrooms, onions, and, of course, a drizzle of olive oil by Dom.
2. John's of Bleecker Street, New York City-- "The Boom Pie": oven-roasted tomato, garlic, and basil
Yes, John's of Bleecker is on the tourist rotation, but there's a reason it's become a New York City institution. Pizza is cooked in a coal-fired brick oven the same way it's been done there since 1929. Choose from their available toppings (sliced meatball, pepperoni, ground sausage, sliced tomatoes, roasted tomatoes, basil, ricotta, mushrooms, onions, peppers, anchovies, black olives, and garlic), and you can scratch your name into the walls like the droves before you.
What can't you do? Order a slice. Pies only. And in this case, you're going with either a Margherita or what the guys at John's like to call the "Boom Pie" (according to a manager, they say "Boom!" to themselves right before they serve it): oven-roasted tomatoes, garlic, and basil.
3. Frank Pepe Pizzeria Napoletana, New Haven, Conn.-- White Clam: clams, grated Parmesan, olive oil, garlic, oregano
For three consecutive years, Frank Pepe Pizzeria Napoletana topped The Daily Meal's list of the 101 Best Pizzas in America. So it's a little shocking to see it out of first place, but that doesn't mean the pizza has fallen off or that the lines of people waiting have gotten less painful. This is still a checklist destination, one you'll have to make a pilgrimage to if you want to discuss the topic of America's best pizza with any authority. The New Haven icon opened in Wooster Square in 1925, offering classic Napoletana-style pizza made by an Italian-American immigrant. After arriving in the United States in 1909 at the age of 16, Frank Pepe (watch him at work in this video) took odd jobs before opening his original restaurant (the location, now called "The Spot," is now an adjunct to the main Pepe's location).
There are now eight locations around Connecticut, one in New York State, and one in Boston, operated by Pepe's 10 great-grandchildren (all of who use original recipes to make their coal-fired pizza), with a Waterbury, Conn. pizzeria scheduled to open in the spring of 2017.
What's the move? As if you didn't know. Two words: clam pie ("No muzz!"). This is a Northeastern pizza genre unto its own, and Pepe's is the best of all — freshly shucked, briny littleneck clams, an intense dose of garlic, olive oil, oregano, and grated Parmigiano-Reggiano atop a charcoal-colored crust. The advanced move? Clam pie with bacon. Of course, Pepe's summer special, their seasonal "fresh tomato pie" made with locally grown tomatoes, is worth its own trip (and the addition of shrimp to a tomato pie is an under-hyped gem of a combination).
No matter what you're thinking of ordering, expect to wait in line if you get there after 11:30 a.m. on a weekend.
4. Roberta's, Brooklyn-- Margherita
With all the development and gentrification along the L line in Brooklyn that has happened since Roberta's opened in January 2008, the great Brooklyn vs. Manhattan restaurant debate seems quaint, and it's almost difficult to remember there was once a time when this great pizza joint was considered a trek.
So Bushwick may not be on the average New Yorker's rotation, the pizzeria's owners have been in the news as part of a few legal disputes, and earlier this year there was news that the notoriously non-corporate restaurant was being invested in by a member of the billionaire Tisch family, but at this point, if not part of the city's pizza old guard, Roberta's is without question a member of New York's pizza icons, one that has inspired other great pizzerias, among them another one on this list, Paulie Gee's.
The appellations of Carlo Mirarchi's pizzas have ranged from echoing schoolyard slang and literary references to clever puns, and recently, just an eggplant emoji. No matter whether you choose the Margherita (tomato, mozzarella, and basil), or the Famous Original (tomato, mozzarella, caciocavallo, oregano, and chiles), or the Family Jewels (mozzarella, heirloom tomatoes, prosciutto bread crumbs, garlic, and basil) you're guaranteed a chewy cornicione and an exemplary neo-Neapolitan pie.
5. Totonno's, Brooklyn-- Margherita
By all accounts, Totonno's shouldn't exist. Consider that it was opened in Coney Island in 1924 (by Antonio "Totonno" Pero, a Lombardi's alum). Factor in the coal storage area fire that ravaged it in 2009. Add to that insult the destruction and subsequent rebuilding costs (the Daily News reported $150,000 in repairs) incurred in 2012 during Hurricane Sandy when four feet of water destroyed everything inside the family-owned institution.
You'll agree that Brooklyn (and the country) should count its lucky stars Totonno's is around. Yet Totonno's doesn't just keep a storied pizza name or nostalgia for simpler times (and perhaps more authentic and consistent pies) alive.
No. Owners Antoinette Balzano, Frank Balzano, and Louise "Cookie" Ciminieri don't just bridge our modern era's festishization of pizza to the days of its inception. The coal-fired blistered edges, the spotty mozzarella laced over that beautiful red sauce… ah, forget about all the teary-eyed try-too-much words, this is Neptune Avenue.
6. Motorino, New York-- Brussels Sprout: fior di latte, garlic, pecorino, smoked pancetta, olive oil
Some spaces are cursed. Others? Blessed. When Anthony Mangieri shuttered Una Pizza Napoletana at 349 East 12th Street, left New York City, and headed west, Mathieu Palombino took over the lease and renamed the space Motorino, and the East Village pizza scene hardly skipped a beat.
Motorino offers nine spirited pies, including one with cherry stone clams; another with stracciatella, raw basil, and Gaeta olives; and one with cremini mushrooms, fior di latte, sweet sausage, and garlic. But contrary to every last fiber of childhood memory you hold dear, the move is the Brussels sprouts pie (on which that oft-maligned vegetable is joined by fior di latte, garlic, pecorino, smoked pancetta, and olive oil), something Hong Kong, Singapore, and Manila natives and Brooklynites can now attest to since Palombino opened (and moved and reopened) his Asian and Williamsburg outposts in 2013 (there's also a third option in New York coming to the Upper West Side). Unless it's late spring, when you'll want to order the special seasonal ramp pie.
7. Sally's Apizza, New Haven, Conn.-- Tomato Pie: tomato sauce, no cheese
Sally's Apizza is New Haven royalty, operating from the same location where they opened in the late 1930s in New Haven's Wooster Square. In truth, if it weren't for nearby Frank Pepe Pizzeria Napoletana, Sally's would probably be talked about with similar reverence. Their pizza is traditionally thin crust, topped with tomato sauce, garlic, and "mozz." Of course, the pies at Sally's look pretty similar to what you'll find down the street at Frank Pepe, because the man who opened Sally's (Salvatore Consiglio) was Pepe's nephew.
Sal passed in 1989, and his wife Flo followed in 2012. Their children Bob and Rick have carried on the tradition of terrific pies (cash only and no reservations) Wednesday through Sunday (starting at 4 p.m. Wednesday through Friday, and at 3 p.m. on weekends), but over the past two years, there were first rumors that Sally's was for sale, and then news of a lawsuit brought by jilted suitors who had offered $3.1 million for it. It's hard to believe an institution would go anywhere, but you never can tell with these kinds of things, so you may want to visit soon.
8. Pizzeria Bianco, Phoenix-- Margherita: tomato sauce, fresh mozzarella, basil
"There's no mystery to my pizza," Bronx native Chris Bianco was quoted as saying in The New York Times. "Sicilian oregano, organic flour, San Marzano tomatoes, purified water, mozzarella I learned to make at Mike's Deli in the Bronx, sea salt, fresh yeast cake and a little bit of yesterday's dough. In the end great pizza, like anything else, is all about balance. It's that simple.''
Try telling that to the legions of pizza pilgrims who have visited the storied Phoenix pizza spot he opened more than 20 years ago. The restaurant serves not only addictive thin-crust pizzas but also fantastic antipasto (involving wood-oven-roasted vegetables), perfect salads, and homemade country bread. The wait, once routinely noted as one of the worst for some of the best food in the country, has been improved by Pizzeria Bianco starting to serve lunch, the opening of Trattoria Bianco, the pizza prince of Arizona's Italian restaurant in the historic Town & Country Shopping Center (about 10 minutes from the original), and an outpost in Tucson.
9. Lucali, Brooklyn-- Pepperoni
A pinch of Di Fara's Dom DeMarco, a dash of the murals of Gino's of Long Beach, stretch the un-sauced classic Coney Island Totonno's crust a bit wider, add a few intangibles, and you're close to the pizza experience Mark Iacono has made famous at his Carroll Gardens pizzeria Lucali since opening in 2006. There's that classic New York thin-crust style and justified whispers about old-school execution praised at New York's storied and beloved institutions. Eating pizza in Lucali's warm, softly lit environs, you wonder how Iacono seems to have magically inherited Gennaro Lombardi's pizza primogeniture. Iacono, who survived a stabbing in 2011 that left him with no feeling in about 50 percent of his body, hasn't slowed, drawing crowds and fans at the original Brooklyn spot, and he's receiving similar accolades at hisMiami location.
10. Rubirosa Ristorante, New York City-- Vodka: vodka sauce and mozzarella
Four years ago, the buzz among the New York City pizza cognoscenti was aroundSouth Brooklyn Pizza,Motorino, Roberta's, and Paulie Gee's . These days, the latter three make up the oldguard of pizza newcomers who have set the standard, and South Brooklyn Pizza has gone to that big cardboard box in the sky.
Since then, the new addition to that "old guard of pizza newcomers" is Rubirosa in Nolita, a spot opened by former Esca cook Angelo "A.J." Pappalardo, who learned how to make a super-thin crust and barely there cornicione at the age of 12 at his father Giuseppe's Staten Island stalwart, Joe & Pat's (No. 32 in 2014). A.J. passed away last year, and the chef, Albert Di Meglio, left to open his own restaurant in Williamsburg, Brooklyn (where yes, there's pizza on the menu), but it's still difficult to get a table at Rubirosa.
Ready for more pizza pie? Check out the full list of the 101 best pizzas in the U.S.