Starbucks wants you to have a beer with that espresso shot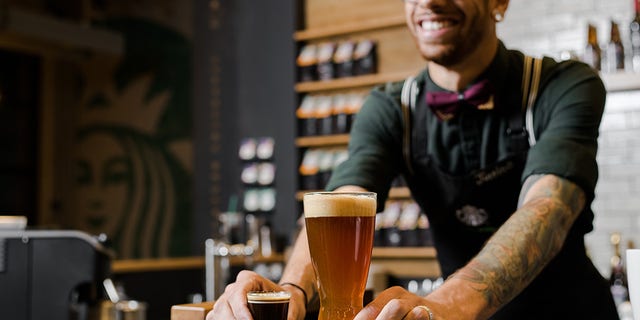 Looking to get really hopped up?
The latest handcrafted innovation from Starbucks combines espresso and craft beer to create something the coffee chain is calling an Espresso Cloud.
This first-of-its-kind Starbucks beverage was developed by bartender-barista Justin Burns-Beach, who worked behind the bar at Starbucks in Phoenix for eight years before moving to Seattle and working at the Starbucks Reserve Roastery & Tasting Room.
Burns-Beach describes the Espresso Cloud IPA as "a truly interactive and unique beverage experience."
So will you get double the buzz from this unique concoction?
According to the chain, the drink is compromised of espresso "shaken over ice with orange pieces and a touch of sweet vanilla. Shaking the espresso produces a rich cloud of micro-foam with accents of citrus and vanilla. The foam is layered on top of a freshly poured IPA, and the beer is served with the cold-shaken espresso shot on the side."
More from The Daily Meal
Starbucks Tests Out Curbside Pickup
Mind Over Meal: The 'Third Place' and The Real Value of Starbucks
5 Discreet Ways Starbucks Baristas Mess With Rude Customers
Now You Can Turn Yourself into the Starbucks Logo in Snapchat
The 8 Unhealthiest Pumpkin Spice Lattes
And then there's the cloud. When the espresso shot is poured over the brew, it "creates a tantalizing, layered waterfall of espresso and craft beer in the glass."
Sadly for beer lovers who enjoy a hit of java with their brews, the new Espresso Cloud IPA is available only at Starbucks Evenings locations.