Russian pizzeria now delivers pies by drone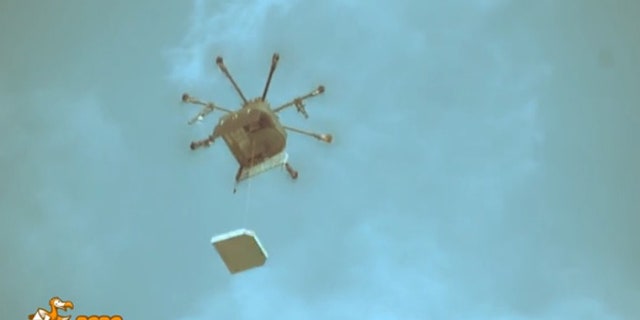 The future of food delivery is here. And it's a little scary.
Pizza shop Dodo of Syktyvkar, Russia has started delivering its orders by drones. According to the Russian English-language news channel RT, the first unmanned pizza delivery was successfully completed on Saturday.
The delivery took just 30 minutes and the drone was monitored using GPS and video cameras to ensure it got to the correct place. The drone flied 65 feet off the ground so no one could snatch it from the sky, but the restaurant manager also called the customer to double check the pizza had arrived.
Once the pizza arrived at its destination, the drone lowered the food by cable.
The special pizza-drone, which is manufactured to Russian company CopterExpress, is able to carry up to 11 pounds at about 25 mph. And if you're thinking about stealing this futuristic machine—think again. When someone tries to pull at the drone, it will release the cable and fly away.
This is not the world's first pizza by drone delivery. Domino's UK tested its DomiCopter earlier this month as a promotional stunt. But RT is reporting the Dodo's manager plans to expand drone delivery for faster customer service.
Now if they can just do this with vodka.
Check out the pizza drone as it makes a very special delivery.