People actually like Burger King's Cheeto-dusted mac and cheese bites
Burger King is bringing together two of America's favorite cheesy foods-- classic macaroni and cheese with bright orange Cheetos.
It's called Mac n' Cheetos and we at Chew on This can safely say we haven't seen a snack food mashup this extreme since 7-Eleven's cheese-stuffed Doritos Loaded Bites.
Combining the crunchy and cheesy Cheetos with the ultimate comfort food may seem like a no brainer now-- but the shape is pretty unusual. Burger King starts with a small serving of creamy macaroni and cheese, presses it into an extra large Cheeto-finger shape, deep fries it, then covers the whole bite in crumbled Cheetos.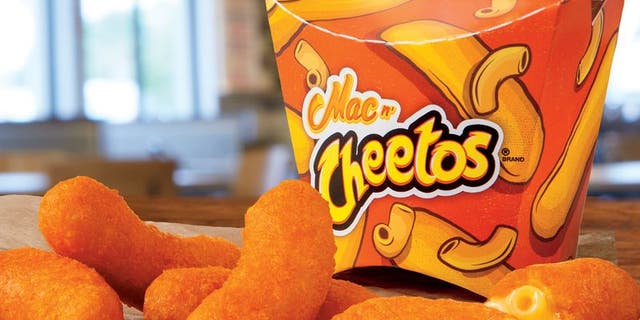 But does the world actually need more crazy, cheesy mashups?
"Oh my god this is so good!"
"I like Cheetos and macaroni and cheese so this has got the best of both worlds," said one taster. "It's everything I thought it would be."
"It's really good. The outside is kinda crispy...and I like the mac and cheese inside, it's creamy," said another.
Many said the flavor of the Cheeto was pretty obvious while others just enjoyed being able to hold mac and cheese in their hands.
Frito-Lay has already teamed-up with other restaurants like Taco Bell for what is now widely considered a fast food changer: the Doritos Locos Tocos. And now Burger King is hoping to create a similarly successful partnership with the snack food giant.
A few tasters thought the product could use a bit of a "kick"--nothing a little sriracha can't handle-- but based on the reactions from most Chew on This tasters, this could be a homerun for the King.
"I would buy it if I hadn't just tried it right here."
"I would take the kids to try to these for sure."
Mac n' Cheetos made their nationwide debut at Burger King this week. Five pieces come in a bright orange box for just $2.49. Get 'me while they're hot-- the Whopper chain is selling Mac n' Cheetos for just eight weeks.
We're guessing the Flamin' Hot version will be out in a couple months.