Oreos' wacky flavors are the key to the brand's longevity
Oreos have been around for over 100 years but they are still as popular as ever.
In 2014, global retailers sold over $3.2 billion worth of those crème-sandwich cookies-- that's more than Chips Ahoy!, Keebler, Little Debbie and Girl Scout sales combined, according to data from Euromonitor International.
How does such an old cookie stay relevant?
Mondelez International—the company that now owns the world famous Nabisco cookie brand—has employed a strategy to keep fans excited about the product that gives this cookie more longevity than most snack foods.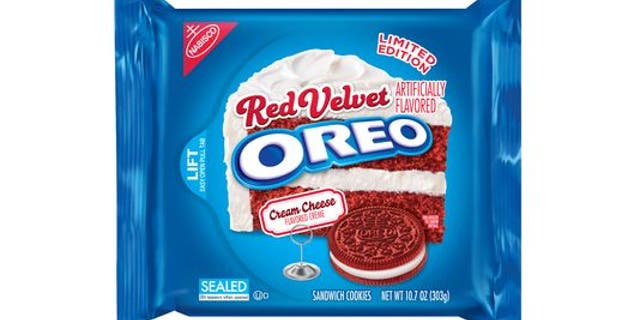 Every few months, the company releases a wacky flavored cookie. We've seen Birthday Cake, Red Velvet, Candy Corn, Caramel Apple, LimeAde—just to name a few.
"We're seeing a lot of snack brands try unusual flavors and a lot of this has to do with companies trying to appeal to the millennial consumer," Jared Koerten, Senior Food Analyst at Euromonitor International told FoxNews.com. "Younger consumers aren't looking for the same things their parents ate and they are more willing to take a risk."
That risk is paying off for brands like Lays with their Do-Us-A-Flavor contest and Doritos-dusted mashups that helped revive Taco Bell. Koerten thinks Mondelez is keenly aware of the "viral nature" wacky snack flavors can have with the social media savvy consumer.
But are any of these new flavors actually worth buying?
We tried the latest Oreo flavor—a carnival theme just in time for summer. Cotton Candy crème sounds like a tooth-ache on a biscuit but one bite and we were in crunchy-cookie heaven. The bright blue blue and pink swirled frosting definitely lets you know this isn't a natural snack but it really tastes like cotton candy. It's sweet but light and dare we say somehow fluffy? Even people who claimed not to like cotton candy went back for seconds.
Peanut butter fans will also love the brand's limited edition Reese's creme Oreos. Surprisingly, one flavor that wasn't a hit? The tried-and-true tested flavor of mint and chocolate doesn't really translate to an Oreo cookie. We found the mint to be a little too artificial tasting and overwhelmingly sweet, instead of refreshing.
So will any of these flavor mashups overtake the original chocolate cookie-vanilla crème combination? Not likely, according to Koerten.
"The original is always going to be the big one but the more products they can roll out, the more likely it is that people will try something new...even if they don't buy it again," says the food analyst. Plus, Koerten says, consumers will likely buy one pack of something new and also buy one pack of the original-- just in case.
"Oreo has a strong heritage in the U.S. and just a handful of brands have that type of staying power."