Oregon pizzeria breaks record with world's cheesiest pizza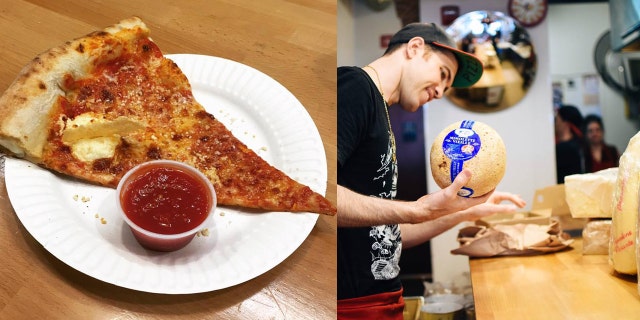 NEWYou can now listen to Fox News articles!
For the second annual Portland Mercury Pizza Week, more than 30 pizzerias around Portland, Ore. offered special, one-of-a-kind slices to customers all weekend, each for just $2.
On Sunday, however, Scottie's Pizza Parlor in Southeast Portland took the cake—or, rather the pie, with a record breaking masterpiece.
Scottie's broke the world record with a one-day-only "Centouno Formaggio" pizza featuring 101 cheeses. Centuono Formaggio means "101 cheeses" in Italian.
Though the pizza shop had already decided to make a special gut-busting 100-cheese pie for Pizza Week—in homage to the 2014 movie "Teenage Mutant Ninja Turtles," which features a 99- cheese pizza called the "Novantanove Formaggio"—they went for the record by adding part-skim mozzarella stuffed inside the crust.
"We're big 'Ninja Turtle' fans," explained owner Scottie Rivera to Fox News. "We wanted to do something insane like that, and anything pizza related is up our alley."
After doing a bit of research, Riviera discovered that world champion pizza Johnny DiFrancesco of Australia had already made a 99 cheese pizza inspired by the movie. "We were like, okay, then we need to take it up a notch," said Rivera, who then reached out to his cheese supplier Greg Hessel of Cowbell Cheesemonger—whom he affectionately calls "Greg the Cheese Guy."
The feat of pulling together more than 100 cheeses took months.
"We had to first figure out how much total weight in cheese would be worthwhile for Greg to pull off each block of cheese that he has in the warehouse," explained Rivera. "Based on that, we reverse-engineered the balance and proportion we wanted, to dull any overwhelming funky flavors that we might get having a lot of cheese on pizza."
The final version included whole milk mozzarella, a shredded 55-cheese blend, 36 soft cheeses, and a blend of 9 grated dry cheeses.
"We figured out this balance between using shredded mozzarella and a blend of all the semi-soft low-moisture shredded cheeses, and then taking all the soft cheeses we could get and then blending them with our house made ricotta," said Rivera. "Any hard dry aged cheeses, we grated finely and then sprinkled on top, and then we came up with the idea to add a baked Parmesan crisp, like a light cracker, that we stuck into the ricotta on every slice. It gives it a fun textural element and looked cool."
The final topping to break the record was aged park-skim mozzarella stuffed inside the crust—an added bonus available for one day only.
On Sunday, dozens of pizza patrons waited in line to try the once-in-a-lifetime pie, forming lines out the door, The Oregonian reported.
So, what does a 101-cheese pizza taste like?
On a Reddit "Food Porn" thread devoted entirely to the feat, a brave eater writes, "I tried two slices from two different pies and can say that I tasted different nuances and notes of cheese with every bite (with the lemon ricotta and that parmesan crispie tying the two together)."
"That said, can I honestly say that my palate is sensitive enough to identify and name each of the 100 cheeses that crossed it? Sadly I cannot. However was it incredibly delicious and each bite a journey through the sacred lands of cheesedom?
"Resoundingly yes. 10/10 would eat again."
But Rivera says the goal of the pizza record was never to make something that crazy.
"The goal was to make it taste like a regular slice of cheese pizza," Rivera laughed. "With the first bite, you don't know what to expect, so you can almost mistake it for a regular slice. Then you chew a little more and you start to get a lot of character here: there's things going on, it's almost hard to place."
THIS IS THE BEST CHEESE TO USE ON PIZZA
He continued, "It's like a journey from the tip of the slice. It's crazy and exciting to eat."
The pizzeria's website has a list of all the ingredients, including whole milk mozzarella, Beauford d'ete, Black Betty Gouda, Dulcinea, Charllerhocker, Gruyere, Muenster, Schnebelhorn, Testun di Capra, Rahmtaler, and Raclette di Savoie, Camembert Fermier, Casatica di Buffalo, Mascarpone, Parmigiano Reggiano and Grana Padano.
Rivera says he has no plans to repeat the feat, but one thing he is passionate about is making sure all his staff receives a living wage.
"We're a small business, so we don't charge an arm and a leg for our pizza, but we pay everybody $15 an hour," the restaurateur explained. "I think living wages are important, especially in Portland, where cost of living is really high. These jobs are way undervalued, but my crew and I work hard to make a really good pizza."
And though Guinness wasn't on hand to verify the record (Rivera said he reached out a couple months ago), Scottie's is pleased with the achievement.
"To their credit, I'm sure that they are inundated with a lot of ridiculous things—oh, I hopped on one foot for three hours straight!—but I submitted an application back in February," explained Rivera.
FOLLOW US ON FACEBOOK FOR MORE FOX LIFESTYLE NEWS
Riviera hopes that customers and follower might start reaching out to Guinness to help push their application through.
"I got a response (from Guinness) asking a question that I'd already answered, so I responded, and tried to say, 'Can you guys let me know what kind of evidence or proof you need? I waited until the last minute—my wife and I were up until 4 am finishing processing the cheeses—waiting to see if Guinness said we needed a video of every cheese going into the cheese grater."
"It's really frustrating, and I'm following up every few days. This week I'm going to really get on them."
In the meantime, Rivera is taking a well-deserved—though short—break.
Scottie's Instagram account posted a photo of a paper plate inscribed with the words, "We are closed today Monday 4/24 to rest, recover and reset after PIZZA WEEK. We'll be back at it tomorrow 4/25. See you soon, Scottie's Pizza."