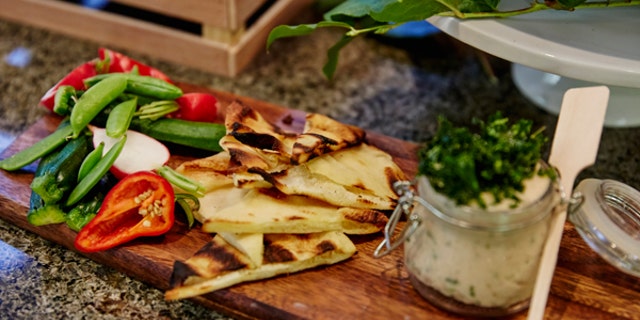 NEWYou can now listen to Fox News articles!
White bean & kale hummus, seasonal vegetable crudité, warm naan bread.
In celebration of National Refreshment Day on Thursday, July 27, Hilton Garden Inn is celebrating (and announcing) its new look / feel, as well as rolling out a brand new food and beverage program. Some of the food highlights will include crispy flat breads, fresh cheese & charcuterie, dessert bites and Strawberry Mojito & Gin Fizz Mocktails / Cocktails. As part of the festivities, Hilton Garden Inn will also be taking over a New York City icon – the double decker tour bus – to brighten New Yorkers' lives on the 27th complete with plenty of food, cocktails and wine, of course.
Cook Time:
Prep Time:15 min
Total Time:15 min
Ingredients:
4 oz. olive oil
4 garlic cloves
1/2 ounce Kale, cleaned, and fine julienne
Sea salt and black pepper as needed
1 10 ounce can white beans, drained and rinsed
2 ounces Tahini
2 ounces lemon juice
1/2 teaspoon cumin, toasted and ground
1 Tablespoon sea salt
1 Tablespoon black pepper
5 slices naan
olive oil as needed
White bean and kale hummus
Seasonal vegetables, prepared
Preparation:
Brush naan with olive oil, then grill.
Transfer to a mixing bowl, then lightly season with sea salt.