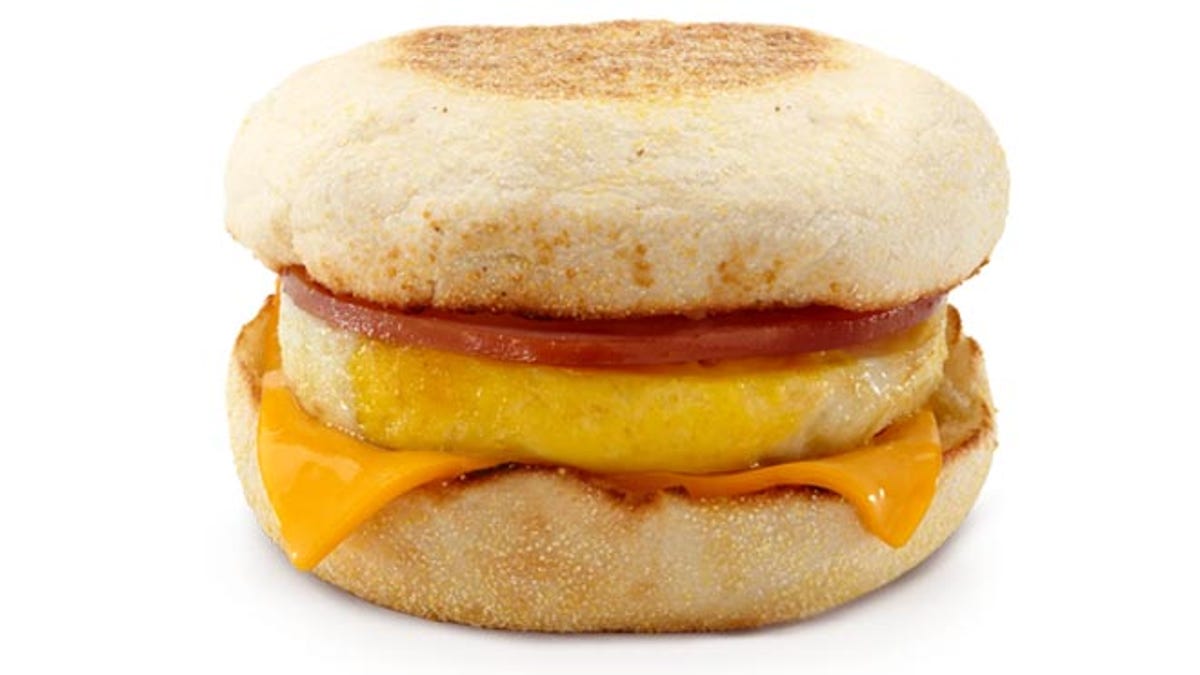 When McDonald's Egg McMuffin breakfast sandwich debuted in 1972, it perfected breakfast on the go with a sandwich that took everything that usually ended up on a plate — fried egg, toasted bread, and a side of bacon — and put it into a portable package. (The melted American cheese is a nice touch, of course.)
At that point, a few McDonald's stores were offering breakfast, but none of the items on the menu were things you couldn't get anywhere else. Franchisee Jim Delligatti, who had helped create the Big Mac sandwich not long before, offered coffee, donuts, rolls, pancakes, and sausages at his store, for example. But franchisees who weren't offering breakfast didn't consider the potential gain worthwhile in light of the fact that they would have to open four hours earlier — Delligatti, for example, opened at 7 a.m. instead of 11 a.m., and at his store, breakfast only comprised 5 percent of sales. But before long, franchisees were yearning for a breakfast item that was more substantial than baked goods and a cup of joe, but didn't require customers to sit down in the restaurant with a fork and knife.
That's when Herb Peterson stepped in. Peterson, a franchisee like Delligatti, also saw the potential of increased sales by opening his stores earlier to sell breakfast items. Inspired by a novel yet clumsy eggs Benedict sandwich from Jack-in-the-Box, Peterson set out to create something similar but with better execution. Peterson rejected runny sauces in favor of placing a perfectly cooked egg on top of a slice of cheese, resulting in that rich, almost creamy consistency. Poaching eggs would have been ideal, but would have taken too long, so instead, he improvised a cooking apparatus that involved placing six rings on a grill. Eggs would be cracked into each one, which is how they end up perfectly round (check out the slideshow to see how we adapt this for home cooking).
Peterson asked Ray Kroc, McDonald's founder, to come to his store to try the sandwich. Kroc was absolutely impressed, and added the sandwich to the menu. Breakfast now represents 15 percent of McDonald's sales, no doubt driven by the popularity of the Egg McMuffin.
If you'd like to give it a shot, you can make your own McDonald's Egg McMuffin at home using store-bought ingredients, and the only special equipment you'll need is a ring mold about the size of an English muffin. Check out our step-by-step slideshow (see link below), or if you prefer to print it out and follow along, click here to see the McDonald's Egg McMuffin Recipe.
The Setup
Ingredients. There's nothing fancy here in the way of ingredients — just a store-bought English muffin; a slice of Canadian bacon; some olive oil, vegetable oil, or cooking spray; water; about a tablespoon of butter; and a slice of American cheese that looks an awful lot like a Kraft single, but you didn't hear it from us. And an egg, of course.
Equipment. Again, pretty simple. You'll want a nonstick pan with a lid (or another nonstick pan that's the same size), a heatproof spatula, a paring knife, a cutting board, a pastry brush (if you're not using cooking spray), and a ring mold about the same size as the English muffin (you'll see why later).
Toast the Muffin
Pop them into the toaster, set the toastiness dial you way you like, and forget about them.
Trace the Ham
Ever wonder how McDonald's gets the ham perfectly round? They don't start with round slices of ham. Place the ring mold on the slice of ham and carefully trace around the outside with a paring knife.
Brush the Mold
Now we're going to use the mold again to get a perfectly round cooked egg. But first, you'll want to brush the inside of the ring with oil using the pastry brush, or give it a spritz of cooking spray. This will keep the egg from sticking to the mold as it cooks.
Crack the Egg
Coat the pan lightly with vegetable oil using the pastry brush or cooking spray and place over medium-high heat. When hot, place the ring mold in the center and crack the egg into the pan. Break the yolk using the edge of a cracked shell.
Just Add Water
Here's how McDonald's gets the egg nice and fluffy: Add a bit of water to the pan outside of the ring mold.
Cover with a Lid
Then, cover with a lid to create steam as the egg cooks. If you don't have a lid but happen to have another pan that's about the same size, that works, too.
Nice Simmer
Don't check constantly, but it's OK to take a peek once the water heats up to make sure that the egg is cooking properly. It should look something like this.
Butter the Muffins
By now, the muffins should be done. Butter them up!
See the rest of the steps and the slideshow at The Daily Meal
More from The Daily Meal

How to Make a Cinnabon Classic Cinnamon Roll at Home

Essential Tools for Your First Kitchen

Make Your Own White Castle Sliders at Home

Adorable Eggs Get Destroyed in Slow Motion