Fiery dish sets off restaurant's sprinklers, almost blasts waiters off their feet
NEWYou can now listen to Fox News articles!
Dinner and a show!
A fiery dish served at Cava Mezze in Baltimore accidentally set off the restaurant's sprinkler system on Tuesday, soaking down the dining area and nearly knocking the waitstaff off their feet.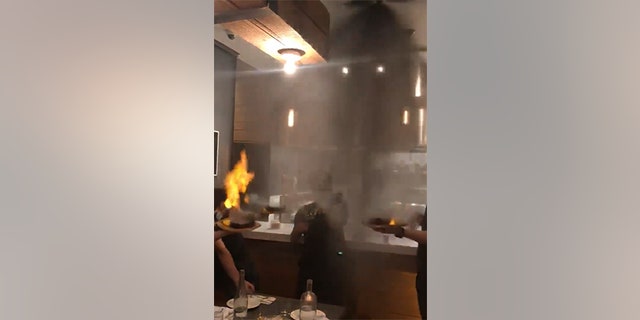 WOMAN SUES ITALIAN RESTAURANT, CLAIMS LASAGNA CAUSED MENTAL ANGUISH
James Hughes, who shared footage of the hilarious moment to Facebook, said he and a large group of co-workers were finishing off their meal at the Greek restaurant when they were offered a few final orders of saganaki, a fried cheese dish which the staff flambees tableside.
Four waiters then gather and ignite the dishes, only for the sprinklers to forcefully douse out the flames while the dining room erupts in riotous laughter around them.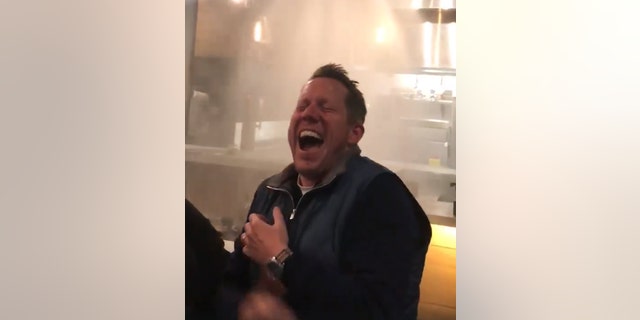 RESTAURANT CALLS BRIDE-TO-BE A 'COW' IN EMAIL SHE WAS NEVER MEANT TO SEE
"We were enjoying a nice corporate outing when the waiters let us know they had a surprise for us. Next thing you know, it's raining in the restaurant and the table is dying of laughter," Hughes tells Fox News.
"We got out of there as fast as we could to avoid any water damage to our belongings!" he added.

FOLLOW US ON FACEBOOK FOR MORE FOX LIFESTYLE NEWS
Despite the fiery fiasco, the restaurant appears to have a good sense of humor about the mishap. In response to a Twitter post containing footage from Tuesday night, Cava Mezze shared a shoulder-shrugging emoji along with a message simply reading "the sprinkler system works."