eBay pulls 6-year-old McDonald's cheeseburger and fries from auction after bidding hits $150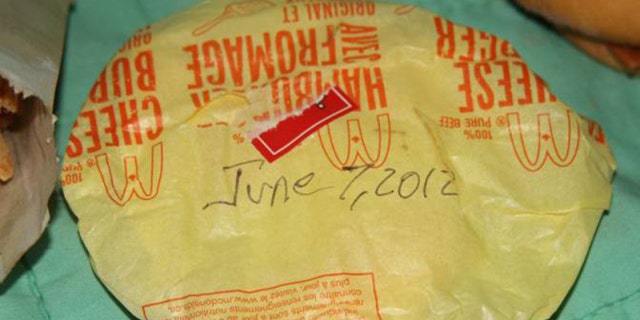 A Canadian man placed a 6-year-old McDonald's meal on eBay on Thursday. By Friday the ancient cheeseburger and fries reached $150 on the site, before eBay shut down the auction for violating its food policy.
91-YEAR-OLD MAN FIRES GUN IN MCDONALD'S DRIVE-THRU AFTER CUSTOMER THROWS SMOOTHIE
Ontario farmer Dave Alexander had purchased the plain McDonald's cheeseburger and small french fries on June 7, 2012 as part of an experiment.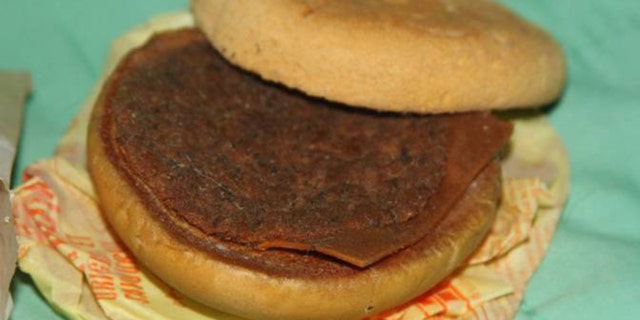 "I had heard rumors about these things not going bad," Dave Alexander told 980 CFPL. "We live on a farm, and things that we grow here go bad regularly and I thought it was an urban legend."
Alexander told the station he asked his daughter to pick up the meal from the fast food chain to test its longevity.
For six years, the cheeseburger and fries have been sitting on a speaker cabinet in his office, CBC reported, and they still mostly look like new.
"The fries are stunningly good looking. The fries look like they were purchased this morning," he told As It Happens. "The burger itself has darkened a little bit. The bun is about as hard as a hockey puck, but it looks just like it's brand new cosmetically."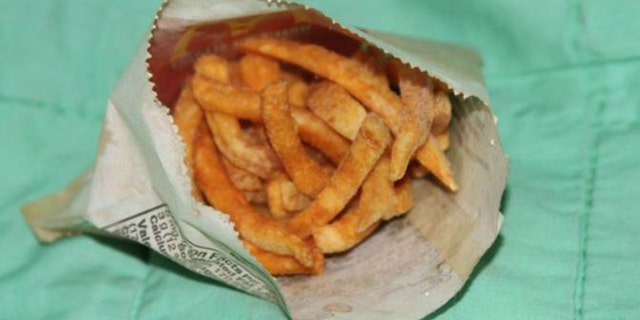 However, now Alexander and his wife are downsizing and he did not want to tote around the age-defying food.
"Now we're downsizing and I thought, 'I'm not taking this cheeseburger with me!'"
Alexander listed the items on eBay for $29, saying he wanted to be able to cover shipping if someone across the world decided to bid on it, CBC reported. As of 2 pm Friday, the bidding had reached $150 and received many questions about its edibility.
"And I have had questions that people are asking if this is edible. I would highly recommend not. This thing looks perfectly edible but it's been sitting in the dust for six years so don't, don't eat this thing!"
FOLLOW US ON FACEBOOK FOR MORE FOX LIFESTYLE NEWS
Alexander planned to end the auction next Thursday, giving eager buyers amble time to bid – but they now will never get the chance as eBay pulled the auction for violating food policy, which states any food sold must have a "clearly marked expiration or use by date."
"We're just stunned," Alexander told As It Happens. "I can't fathom what these people are thinking."
"A six-year-old cheeseburger? You've got to be kidding me that it needs an expiry date," Alexander added.
Fox News has reached out to eBay for comment.