Cracker Barrel inspires couple's engagement photos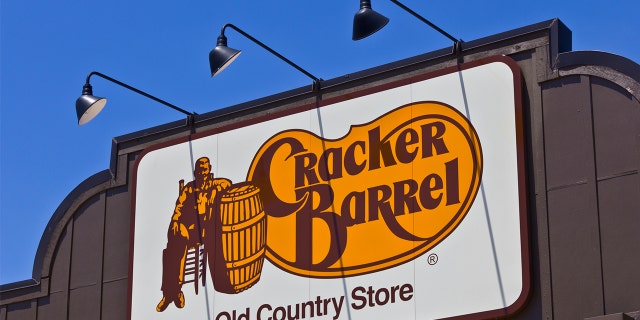 When it was time for Ashley Woods and Sam Halcom to shoot their engagement photos, the ideal location was obvious. Thinking beyond a typical outdoor portrait session, the Florida couple instead took their romantic photo shoot to their local Cracker Barrel.
Much more than a restaurant for the pair, the Southern homestyle chain shares a special place in their hearts as the site of their first date. According to The Knot, the couple met at church in 2015 and dined at Cracker Barrel two months later. The evening went so well that Woods soon asked Halcom to take her there once a month for the rest of their lives, a detail she shared with the photos on Instagram.
COUPLE CELEBRATES 47 YEARS OF MARRIAGE WITH PORTRAITS BY PHOTOGRAPHER DAUGHTER
Further, the magic of Cracker Barrel continued to glitter their love story. The night they got engaged, Woods and Halcom went to their favorite restaurant for dinner before Halcom popped the question on his grandfather's dock at sunset, The Knot reports.
In the similarly blissful photo shoot, the pair highlight the best elements of Cracker Barrel, from "waiting" to order and playing table games, snuggling on a bench and laughing on rocking chairs.
WISCONSIN FIREFIGHTER PROPOSES TO GIRLFRIEND AND HER DAUGHTER AT PARADE
Wedding at last on Dec. 13, Halcom, a 26-year-old web designer and Woods, a 22-year-old film student, even wove their love of the chain into their big day. The couple not only mentioned Cracker Barrel in their vows, but also served guests breakfast for dinner, paying deliberate ode to the place where it all began, Extra Crispy reports.
The weight of the occasion, meanwhile, was not lost on the Tennessee-headquartered eatery, who sent the newlyweds a basket full of "iconic goodies" as a congratulatory gift.
FOLLOW US ON FACEBOOK FOR MORE FOX LIFESTYLE NEWS
The new Mr. and Mrs. are not the only pair to fall in love with the homestyle restaurant. In August, an elderly Indiana couple achieved their dream of successfully visiting all 645 Cracker Barrels in America. Dinner, of course, was on the house.