California chefs create monster Lambpigcow roast to rival Turducken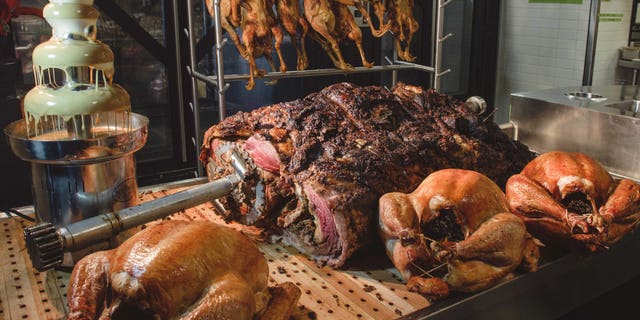 If you've got a hungry hoard to feed this holiday season, try whipping up the ultimate roast beast for dinner.
Move over 'Turducken'—the chefs at Michael Mina's Bourbon Steak and Pub in the Levi's Stadium have created a monster "Roast Beast," which has been dubbed the "Lambpigcow" on social media. But even those names don't quite do it justice.
The massive meat dish has seven different types of protein including 24 quail, 12 chickens, 8 ducks, 6 turkeys, 2 lambs, a whole hog—all wrapped up in a sheet sized piece of butterflied Wagyu beef.
To roast the dish, a 20-foot metal garden fence with construction grade clamps was required to hold the meat in place over a massive rotisserie.
Bourbon Steak former executive chef David Varley oversaw the whole operation which was prepared for the 49ers' Thanksgiving Tailgate party after getting beat by the Seattle Seahawks 19-3. He posted plenty of Instagram pictures to document the team's efforts throughout the day.
The dish was served alongside a flowing fountain of gravy. With something from every corner of the barnyard, we're sure revelers went home absolutely stuffed.
"I'm taking a few years off from working on thanksgiving after this," Varley jokes on his Instagram. "I think I'll be flats fishing on Andros next year."