8 regional pizza styles every foodie should try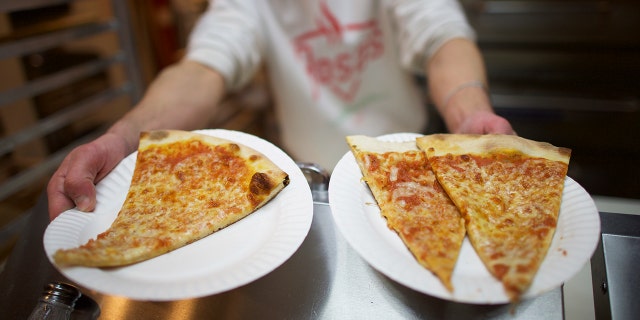 We're living in a golden age of regional pizza. Distinct favorites are breaking out of their local confines — now you can get lacy-edged Detroit pies in Nashville, charred New Haven look-alikes in Denver, and autentico Roman pies in Chicago.
It's glorious — and overwhelming. So we've cataloged a cross section of the current pizza universe and suggested standout examples all over the country for you to do some research.
New Haven Apizza
The style: Pilgrims once had to trek to Sally's or Frank Pepe's in Connecticut for coal-fired char and chewy oblong pies, but no longer. The gospel of the thin, dry pizza continues to spread, and with it, the vernacular apizza, a vestige of Neapolitan dialect.
Mootz or no mootz? Mozzarella is a topping to be requested.
Hot spot to try: White Pie, in Denver
Detroit
The style: A rectangular pie best known for its crunchy caramelized-cheese-coated edge. The focaccia-esque bottom is usually lined first with "toppings," then Wisconsin brick cheese, followed by streaks of tomato sauce.
The backstory: The steel trays (which bake similarly to cast iron) used on the first pies were reportedly leftovers from a car factory, where they held nuts and bolts.
Hot spot to try: Emmy Squared, in Nashville and New York
Bar
The style: The thinnest of pies. Usually has very unfancy toppings and a cracker-like crust.
The name: Originally served in bars, presumably to keep patrons in their seats drinking.
Hot spot to try: At brand-new Melfi's in Charleston, S.C., pies feature the bacon and iceberg toppings of owner Brooks Reitz's Indiana childhood.
Al Taglio
The style: In Rome, pizza al taglio is literally pizza "by the cut." It's a long, doughy pizza that gets cut with scissors, then sold in rectangular slices by weight and reheated.
Controversy: Some pizza nerds look down on reheated slices.
Hot spot to try: Gabriele Bonci of Rome's famed Pizzarium recently opened his first U.S. location, Bonci, in Chicago.
Romana Tanda
The style: American chefs have gone crazy for Neapolitan pies, but the truth is, Romans have long disliked them, preferring their own cracker-crunch crust with zero sag.
Crib sheet: Think of it like a bar pie version of Neapolitan pizza.
Hot spot to try: Martina, New York
Grandma
The style: Cooked in a rectangular or square pan lined with oil, which gives it a crispy, golden crust. Lightly topped first with shredded mozz, then crushed canned tomatoes and a scattering of chopped garlic. A thinner relative of the Detroit pie.
The backstory: Began as an off-menu item at the original Umberto's of Long Island, N.Y., where founder Umberto Corteo served the pizza that "mama made" to friends.
Hot spot to try: O4W Pizza, Duluth, Ga.
Neapolitan
The style: Hand-stretched, wood oven-fired, with a chewy crust and a floppy center. Some spots stick to strict Italian standards, others veer more neo-Neopolitan, especially when it comes to toppings (think duck meatballs, tomatillos, and smoked salmon).
Musical metaphor: If Neopolitan is classical, neo-Neopolitan is jazz.
Hot spot to try: L.A.'s pop-up La Morra leans traditional; Vivian Howard's Benny's Big Time in Wilmington, N.C., takes some liberties (e.g: pineapple and mint).
New York
The style: A deck-oven, gas-fired, 18-inch wide pizza cut in eight slices, usually sold both by the pie and by the slice. Completely covered by about equal amounts grated low-moisture mozzarella and thick, slightly-sweetened sauce up to about an inch of the puffed edge.
What lies beneath: A thin and darkened undercarriage with enough give to fold (enabling the walk-and-eat).
Hot spot to try: Scarr Pimentel worked at legendary NYC pizzerias like Joe's before opening Scarr's in Chinatown, which brings stone-milled flour to the otherwise traditional pies.